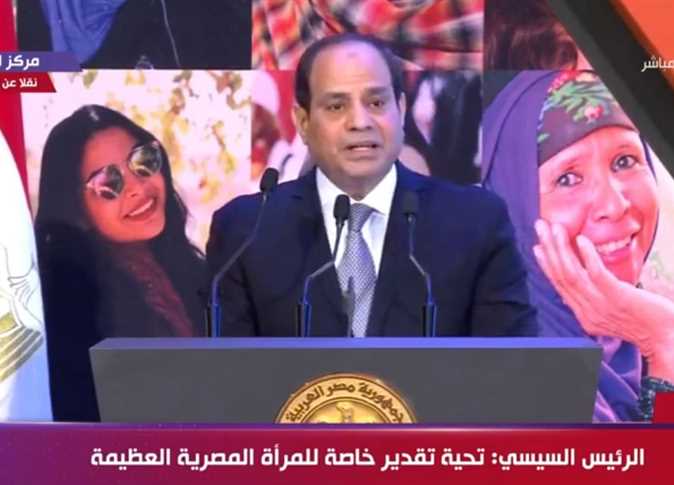 Egyptian President Abdel Fattah al-Sisi and First Lady Entissar al-Sisi on Saturday a attended a celebration held at al-Manara International Conference Center in New Cairo neighborhood to honor Egyptian women, where the president gave out seven directives on women's issues.
The ceremony is organized by the ministries of Social Solidarity and Planning in addition to the National Council for Women.
During a speech given at the ceremony, Sisi listed the following seven directives aimed at the government:
First, to study ways to achieve further involvement for women in the labor market, and provide an appropriate and supportive environment for them; including the necessary social protection to encourage their shift towards informal to formal employment and in helping them realize their ambitions within non-traditional sectors.
Second: Entrusting the government to put in place appropriate legislation aimed at protecting women effectively from all forms of physical and emotional violence, with considerations for the fact that early marriage before legal age, denial of education or inadequate maintenance for a woman and her children in the event of divorce are acts of violence.
Third: The government must conduct a deeper study of women imprisoned due to failed payment of debts, and formulate legislation and policies that would reduce this phenomenon due to it's severe repercussions on the Egyptian family.
Fourth: In the light of the previous directives to draft a family awareness project and prepare youth for the responsibilities of marriage, Sisi looks forward to the effective and positive implementation of the "Mawada" initiative, which will benefit the stability of the family and preserve the rights of both husband and wife, together with the study of issuing a new personal status law.
Fifth: Calling on the government to take the necessary measures to achieve financial inclusion, technological empowerment of women and provide further support for small projects that offer women opportunities to work.
Sixth: In light of the representation of women in parliament and in the government, the highest in the history of Egypt, Sisi calls for greater political participation and in various sectors.
Seventh: Calling upon the government to study the amendment of the Public Service Law, shaping it into a tool for training and qualifying Egypt's young women to join the labor market, and develop the necessary incentives to achieve this.
Edited translation from Al-Masry Al-Youm