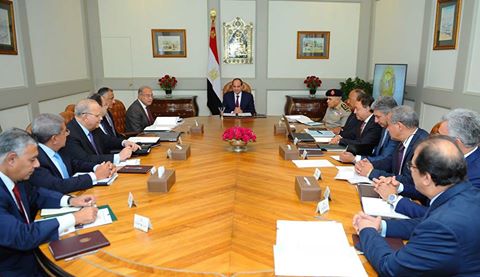 President Abdel Fattah al-Sisi held a presidential meeting on Monday with Prime Minster Sherif Ismail to examine recent economic developments, affairs of the medical sector, and the level of security measures in Egyptian airports.
The meeting included ministers of defense, foreign affairs, interior, justice, health, civil aviation, finance, supply and internal trade, in addition to the governor of the Central Bank of Egypt (CBE), chief of the General Intelligence Service (GIS) and chief of the Administration Control Authority (ACA). They collectively tackled improving the quality standards of hospitals and medical centers, and the matter of establishing new hospitals nationwide.
Sisi underlined the necessity of providing medical equipment to the medical sector at competitive prices through the Joint Purchase Committee for Pharmaceuticals and Medical Supplies, founded in May 2016 upon a presidential decree.
According to a statement from Minster of Civil Aviation Sherif Fathy, the airport security measures are now on par with global standards, after the ministry purchased modern security devices and surveillance cameras, and provided technical training to airport staff.
In addition, Governor of the CBE Tarek Amer, explained the impacts of increasing Egypt's foreign reserves up to $36 billion — the highest volume since 2011 — saying that it levels up Egypt's credit rating and attracts foreign investors to purchase the state's treasury bills and bonds.
Egypt's budget deficit declined by 9.5 percent within the fiscal year 2016/17, compared to 11.5 percent in the fiscal year 2016/15, as a result of increasing the revenues and governmental investments, as well as reducing the government's expenditures and the trade deficit, Minister of Finance Amr al-Garhy highlighted.
Edited Translation from Al-Masry Al-Youm