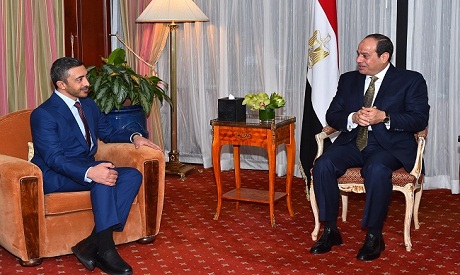 President Abd al-Fattah al-Sisi shed light on the importance of Joint Arab Action, as a means to face destabilization attempts in the region, during a meeting with the UAE's minister of foreign affairs, Abdullah bin Zayed al-Nahyan, Sunday, in New York.
Sisi stressed the importance of developing bilateral relation between Egypt and the UAE in different fields, describing it as a 'distinct' relationship, Official Spokesperson of the presidency, Ambassador Alaa Youssef said.
The Egyptian president and Foreign Minister Nahyan discussed the Middle East crisis and issues that require further consideration within UN Secretary-General meetings, Youssef added.  
Nahyan praised the intensive coordination and consultation between the two countries to confront challenges and risks facing the Middle East.
He asserted that Arab countries have to work together against attempts to threaten the security of the Arab people.   
The meeting was attended by Egyptian Minister of Foreign Affairs, Sameh Shokri, and Chief of General Intelligence Service (GIS).
Edited Translation from Al-Masry Al-Youm