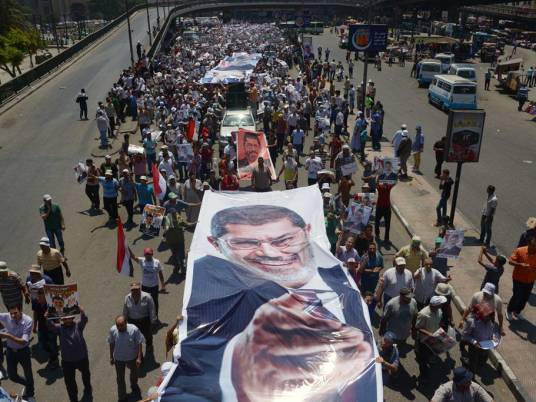 The National Alliance in Support of Legitimacy (NASL), an umbrella Islamist organization demanding the reinstatement of Mohamed Morsy, has condemned news that Israeli jets penetrated Egyptian airspace and targeted jihadis in al-Agra in Rafah, Sinai.
The group described the operation as a dangerous development for Egyptian national security.
The NASL reiterated its rejection of steps taken by Egypt's "coup leaders."
It also expressed its belief in the patriotism of the Egyptian army, adding that the NASL would not accept any shift in military doctrine that meant the army turning its guns on Egyptians rather than the country's enemies.
Military spokesperson Ahmed Mohamed Ali denied Israel's involvement in the Friday evening attack, after media circulated news that the al-Agra bombing had been carried out by Israeli jets in coordination with Egyptian officials.
"Armed forces [troops] are still combing the surrounding area, accompanying technical elements to gather evidence on the circumstances of the accident," he said in a statement on Facebook.
Novelist Alaa al-Aswany meanwhile commented on the incident, saying that the Muslim Brotherhood was gloating in the face of the Egyptian army.
On Twitter Aswany said: "Question.. a week ago, when it was allegedly said on the Rabea al-Adaweya stage that the U.S. fleet was heading to Egypt's coastline, the Muslim Brotherhood cheered up. I can remember the significance."
"Whoever wants to see the gloating should watch Al Jazeera now," he added. "The Brotherhood presenter confirms that an Israeli jet bombed Sinai. It's the Brotherhood's gloating against Egypt's army."