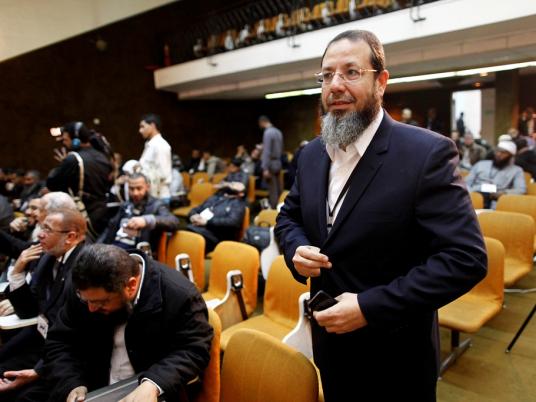 Chairman of the Salafi-oriented Asala Party and leader at the National Alliance to Support Legitimacy Ehab Sheiha denied in a statement Sunday that the Alliance would back any presidential candidate in the upcoming presidential elections.
He also denied rumors about the possibility of backing former Chief of Staff of the Armed Forces Sami Anan for president saying there were no negotiations between the alliance and Anan. He added the Alliance will neither back former presidential hopeful Abdel Moneim Aboul Fotouh nor back former presidential hopeful Selim al-Awa for president.
Shiha, who is currently based outside Egypt, told Al-Masry Al-Youm: "We seek to bring down the current authority and we do not recognize all consequent [measures] including the new constitution and the results of the upcoming presidential elections."
"It is not reasonable that the alliance backs a candidate in an election it does not basically recognize," Shiha pointed out.
The alliance will continue to organize protests even if Defense Minister Abdel Fattah al-Sisi wins the presidential elections, Shiha added.
"No backtracking on the return of [toppled President Mohamed] Morsy to power," Shiha said.
"If the alliance backs a candidate in the elections, it means the they have abandoned [Morsy], which will never happen," he added.
Shiha said the alliance would continue its campaign abroad against he current regime.
Edited translation from Al-Masry Al-Youm