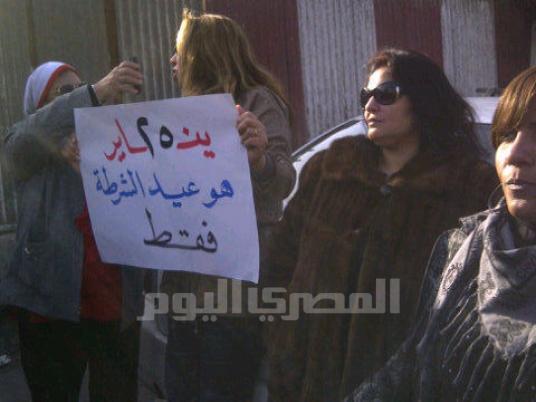 While tens of thousands gathered in Tahrir Square on Wednesday chanting against military rule, pro-military groups held celebrations in Abbasseya.
In Abbasseya, where a series of demonstrations in support of the ruling Supreme Council of the Armed Forces (SCAF) took place last year, some 200 pro-military Egyptians gathered to make their presence known.
Chants overheard by Egypt Independent included: "Tantawi won't leave. Tahrir won't rule," in reference to calls for the fall of the regime led by Field Marshal Hussein Tantawi, head of the SCAF.
Protesters also chanted: "Oh Marshal, run them over. We're with you all the way." This chant recalls 9 October 2011, when army vehicles mowed down protesters marching to the Maspero building, when at least 27 demonstrators were killed by security forces.
Not everyone present was in a celebratory mood, however.
"I'm here to celebrate Police Day. There's not a revolution for me to celebrate," said Mervat, who declined to give her last name.
In 2009, Mubarak officially declared 25 January "Police Day," a day which protesters appropriated last year and transformed into a day of revolt against Egypt's repressive security apparatus.
In Abbasseya, the anti-Tahrir sentiment was palpable.
"Oh ElBaradei, you're a spy. Go gather your dogs from Tahrir," some chanted, in a reference to former presidential hopeful Mohamed ElBaradei, admired by many revolutionary youths.
"The revolution I know is the one that puts an end to corruption. But the only thing I've seen since 25 January 2011 is the deterioration of our state. If I have one criticism of the SCAF, it is that it hasn't cracked down on Tahrir protesters properly," said Dina Haggag, who was at the Abbasseya protest.
It wasn't long before Abbasseya residents decided to attack the pro-SCAF protest, telling Egypt Independent that the demonstration's presence in the neighborhood tarnishes their reputation. The protest was dispersed when the residents dismantled the stage and scared the crowd with a concussion grenade.
Meanwhile, state television's coverage of the revolution's first anniversary was largely celebratory and appreciative of the military's role in the uprising.
Patriotic songs are interspersed with discussions of the 18-days and the transitional period, along with dramatic images of police-protester clashes from revolution archives.
One program, "A Diary of the Egyptian Revolution," ended with an image of General Mohsen al-Fangary's 11 February salute to martyrs set to rousing patriotic music.
Images of the revolution's martyrs included both protesters and policemen.
There has been little analysis of what lies ahead. Channel 1 asked its guests whether the day is one of celebration or protest and listed outstanding demands as well as those which have been fulfilled.
State television stressed SCAF's success at holding Egypt's first free parliamentary elections and the People's Assembly they produced. It listed the failure to hold Mubarak-regime members to account and social justice as shortcomings. The demand for handing over power to civilian rule was carefully packaged, with no mention of the military.
In one segment, people were asked about the media's performance since the 25 January revolution first erupted.
"There are some channels that incite people," one man said, without specifying how.
"The media after the revolution is completely new. It tells the truth and presents events as they happen," another said.
Military celebrations were subtle and dispersed. In the Mediterranean city of Alexandria, the navy threw a parade of boats in the sea, carrying flags of Egypt.