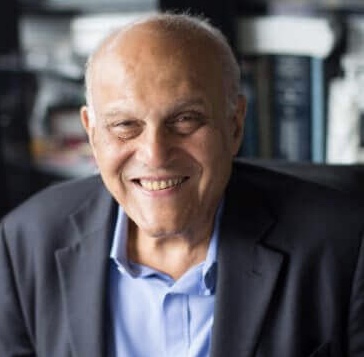 The American University in Cairo (AUC) will host Professor Magdi Yacoub, on Tuesday, January 17 from 6:30 to 7:30 pm at the Ewart Memorial Hall, in a conversation entitled "From the Heart: A Pioneer in Science and Philanthropy – A Conversation with Sir Magdi Yacoub."
Yacoub is the founder of The Magdi Yacoub Institute and Magdi Yacoub Heart Foundation; Professor of Cardiothoracic Surgery, Imperial College London; President and Founder, Chain of Hope, which connects cardiologists around the world to provide the latest technologies to treat heart diseases and save the lives of children in developing and war-affected countries.
During the conversation, Yacoub will narrate his long journey between science and charitable work. The session will be moderated by Khaled Ezzelarab, Associate Professor of Practice, Department of Journalism and Mass Communication, AUC.
During the event, AUC Press will announce the publication of Sir Magdi Yacoub's biography in July 2023.
The book, 'A Surgeon and a Maverick' follows Yacoub's life from his formative years in Egypt to his career in Britain, where he pushed frontiers in medicine and served communities around the world, for which he was awarded the Order of Merit.
Yacoub's biography is written by veteran journalists Simon Pearson and Fiona Gorman.