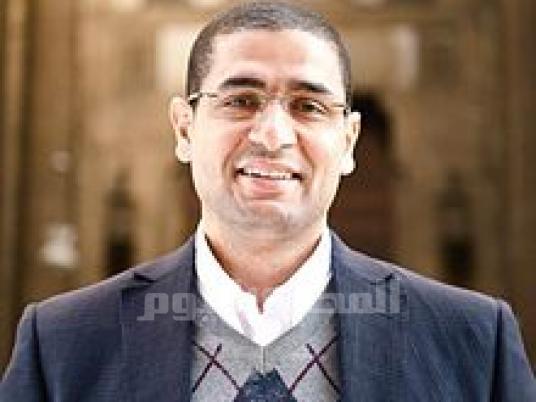 It has become a routine in every parliamentary session to watch Islamist MPs shouting to interrupt MP Mohamed Abou Hamed while talking. For one, it brought Hamed greater attention.
In what will go down in history as a popular scene from the first post-revolution Parliament, Hamed was intercepted by a clique of Islamist MPs as he was walking back to his seat in the People's Assembly. They wanted to snatch away a birdshot bullet he had shown as evidence of security forces killing protesters. Hamed was challenging claims that police weren't shooting at protesters during the last wave of violence in downtown Cairo in February. A photo of him holding the bullet high in Parliament quickly became a media icon.
But behind the performance essentially embedded in parliamentary politics lies the interesting layers of Hamed's life. What makes Hamed unique is that he merges a deep religious background, a liberal ideology and a hardcore revolutionary discourse, which mark the differences between contentious parties in post-revolution Egypt.
Born in Cairo on 14 March 1973, Hamed comes from an average middle-class family. His mother was a housewife, and his father was a worker who died when his son was six years old. Hamed divorced his two ex-wives and is father of 12-year old twins, Mahmoud and Salma. The young MP received his early education in public schools and graduated with a bachelor's degree in commerce from Cairo University in 1995. He is currently pursuing a PhD in political theory, and his academic work focused on the relationship between politics and religion.
He founded his own financial consultancy and auditing company, which specializes in training and providing strategic planning advice to financial departments in companies.
Hamed hosted a daily TV show called Kenouz (treasures) during Ramadan in 2003 on the Saudi Islamic channel Iqraa. Afterward, he hosted another program called "Quran and Life."
"After I began my PhD thesis, I decided I want to talk to people through a civil medium rather than a religious one because I wanted everyone to listen to me, including people from other religions," said Hamed, who sat down with Egypt Independent in a 5-star hotel in the affluent neighborhood of Zamalek, a few hours ahead of a protest organized by Ultras Ahlawy, which he would later join, leading chants.
His approach is one that embraces schools of Islamic philosophy which were pioneered by Imam Ibn Rushd and revived by reformer Imam Mohamed Abdu in modern Egypt.
"The school that fits my personality and the way I think is that which treats religion with reason and which states that religion is made to serve humanity. And the only school that believes this is Islamic philosophy. This school looks beyond the religious rulings and into their origin and the reasons behind them," said Hamed.
Hamed added that he has been studying comparative religion since he was 10 and different Islamic religious schools for the past 28 years.
"My interest in studying religion was not out of religiosity; rather, it was out of my interest in knowledge. Although I didn't use to pray when I was a child, my interest in studying the Quran was sparked because I used to listen to the angelic voice of sheikhs reciting the Quran to people. This is when I decided to study and memorize the Quran," said the young politician, casually dressed and at times browsing on his iPhone.
Hamed has taught the Quran to 5,000 students since 1997.
However, his scholarly background in Quranic studies does not lead Hamed to believe that politics and religion should be closely intertwined. While he recognizes the importance of religion in people's lives, he believes that religion should be treated only as a general guide for political activity and shouldn't dictate it.
"There must be a separation between religion's static doctrine and the relative political theories of humans. No one should present his political opinion as something that is as sacred as religion," Hamed explained. This is where Hamed comes into disagreement with Islamist political forces.
As far as political ideology is concerned, Hamed describes himself as a liberal who is also a Muslim. "Nothing dictates my political participation except that I am human, Egyptian, liberal, and so I am free," he stated.
Hamed entered politics only after the 25 January revolution erupted. Despite being a new face, he was able to defeat his more established Islamist counterparts in parliamentary elections when he competed for the single-winner seat in the Qasr al-Nil district. He managed his own campaign but was supported financially by the newly-established Free Egyptians Party, which he co-founded with business tycoon Naguib Sawiris.
"Before the revolution, the [formerly ruling] National Democratic Party (NDP) was monopolizing political life in Egypt and that is why I didn't see a point in getting into politics. I believed that civil society was more effective," said Hamed.
In 1997, Hamed established an NGO called the Egyptian Development Foundation which, according to him, aims at rebuilding the middle class through promoting religious education and holding trainings for youths on personal skills and career development.
But once he entered the political sphere, Hamed adopted a revolutionary stance. For one, he has been staunchly critical of the ruling Supreme Council of the Armed Forces in Parliament.
In an emergency parliamentary session held after over 70 Ahly fans were killed after a football game in Port Said, an incident that for many further manifested the failure of the SCAF and the police apparatus to handle the country's critical transition period, Hamed proclaimed: "What happened yesterday is not an accident; rather, it's a plot for which the SCAF should be held accountable."
"We must bring down the military rule and hasten the transfer of power to an elected civilian president," he continued. "We also have to completely eradicate the idea of a safe exit for the SCAF. Anyone whose hands are tainted with Egyptians' blood has to be held accountable, no matter who he is."
And just like the SCAF, the Muslim Brotherhood has not been spared from Hamed's criticism.
"The Muslim Brotherhood's Freedom and Justice Party has an illegitimate majority because people voted for religion and not for the party. They transformed the elections into a religious battle, which is illegal," Hamed said on a TV show on the private TV Channel Rotana on 23 January, the day the People's Assembly first convened.
"The Muslim Brotherhood is following a strategy similar to that of Palestine's Hamas when it was aiming for a certain quota for its members in all state institutions; the legislative, security, military…etc. The Brotherhood wants to inherit this country. They are acting just like the NDP — if you are not a supporter, then you are the enemy," added Hamed.
"I will talk about the Brotherhood very soon and especially about their source of funding. The group received LE70 million from Qatar on 28 January. If we are talking about foreign funding, then their sources of funding need to be investigated. But this will not be a personal attack on them; rather, it's because the people demand transparency," Hamed told Egypt Independent.
Hamed claims that it is his religious background that is causing ire among Islamist MPs.
"They gain credibility by presenting themselves as the people of religion, and anyone who argues with them about religion, they will consider an enemy," he said.
But while being vocal about protecting the revolution, Hamed has not escaped criticism from revolutionaries, as some have accused him of supporting Gamal Mubarak's presidency before the revolution and of seeking fame by stirring controversy.
He denies these charges.
"I challenge any one to find a picture or an article that proves the existence of any relationship between me and Mubarak or any NDP members," said Hamed.
He explained that the only connection he had to the NDP was that his NGO, the Egyptian Development Foundation, was forced to include 50 students who were members of Mubarak's son's Future Generation NGO in a training it was holding at Cairo University. Otherwise, the Egyptian Development Foundation would not have been allowed to hold the training.
Hamed doesn't hide his ambition. He confidently speaks about his plan to run in presidential elections once he turns 40, the official age at which he can enter the contest.
Recently, Hamed left the Free Egyptians Party shortly after resigning as the party's vice president and the head of its parliamentary bloc, saying that he "needs to completely devote himself to a project he has been working on for a while to serve the nation."
Hamed recently formed the Revolutionary Command Council; a coalition between more than 40 activist groups that aims at uniting all revolutionary forces across the country under one body.
Hamed is confident he has something valuable to offer if he ever becomes Egypt's president: "I believe very much in the Egyptian people, I know very well how to dream, and I have a dream and a vision for post-revolution Egypt. I don't see any candidate now who has a solid vision for the country like I do."
This article previously stated Mohamed Abou Hamed's PhD status incorrectly. He is currently pursuing the degree.