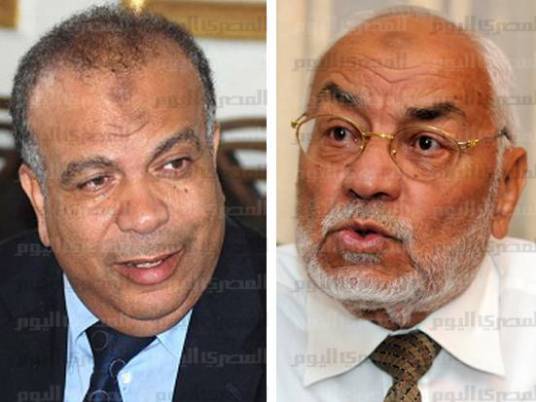 The South Cairo Prosecution extended the detention of Muslim Brotherhood leaders Mohamed Saad al-Katatni and Mahdi Akef for another 15 days pending an investigation into charges of inciting the killing and attempted murder of protesters in clashes that broke out last month at the Guidance Bureau headquarters in Moqattam.
Katatni, the head of the Muslim Brotherhood's Freedom and Justice Party, denied any connection to the incident, saying that since he became president of the party he has had no link to the activities of the Brotherhood.
Khairat al-Shater, deputy supreme guide of the Brotherhood, also denied all accusations, saying that he learned about the incident in Moqattam from the media and that he was in his Nasr City apartment when the clashes broke out.
Mohamed Mahdi Akef, the former supreme guide, said he had cut off all relations with the Brotherhood when Mohamed Badie became the new supreme guide, denying any knowledge of the decisions taken by the Guidance Bureau.
Rashad al-Bayoumy, a member of the Guidance bureau, said he knew nothing about the incident or the Brotherhood members who were inside the headquarters and who allegedly shot at the protesters.
The defendants face charges of incitement to kill peaceful protesters, attempted murder, and possession of weapons and explosives.
Edited translation from Al-Masry Al-Youm