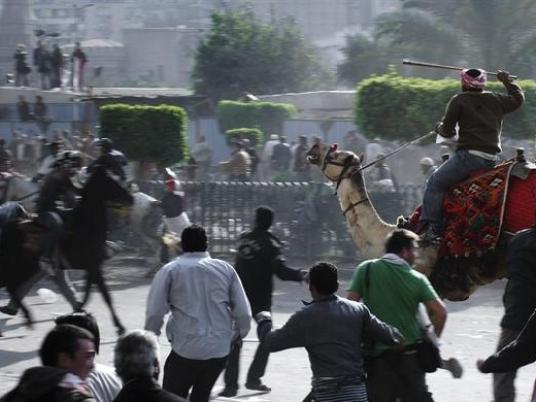 Central Cairo's prosecution office decided on Sunday to reinvestigate the killing of protesters in the incident widely known as the Battle of the Camel, a judicial source told Al-Masry Al-Youm.
On 2 February 2011, amid the widespread protests of the 18-day uprising against former President Hosni Mubarak, prosecutors say 24 senior officials of the former Mubarak regime sent armed men on horseback and camels to attack anti-government protesters. During the attack, at least 11 protesters were killed and hundreds injured.
But after a trial that lasted over a year, a court acquitted all of the defendants last October.
The judicial source added that the investigations were reopened after prosecutors received new complaints related to the case.
One of the complaints was filed by attorney Mohamed Mowafy, who alleged new evidence implicating Mubarak, his wife Suzanne, former Manpower and Immigration Minister Aisha Abdel Hady, and former head of the state-dominated Egyptian Trade Union Federation, Hussein Megawer.
Abdel Hady and Megawer were among the former officials acquitted in the Battle of the Camel trial.
The move to reinvestigate the case doesn't automatically mean a new trial will be held. The prosecution will first have to decide whether to send the entire case to criminal court.
Edited translation from Al-Masry Al-Youm