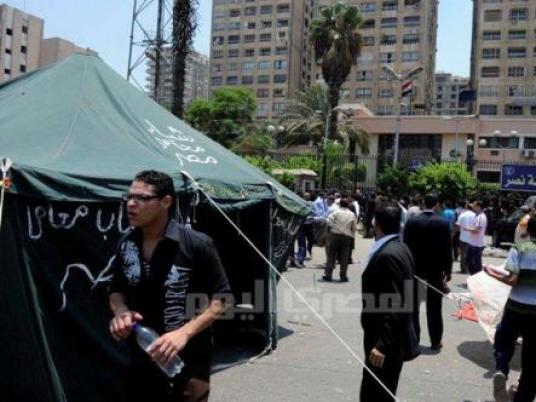 Nasr City Prosecution ordered the release of six lawyers on Sunday, after they had been detained in relation to clashes between police officers and lawyers inside Nasr City Police Station.
The lawyers were detained on Friday on charges of attacking a public servant performing his duties and the destruction of public property.
The prosecution referred two of the lawyers to the Department of Forensic Medicine for a medical examination and report.
On Friday evening, the prosecution ordered the release of three police officers after taking their statements on the clashes, which resulted in the injury of 14 people.
According to the injured police officers, a police officer and a lawyer argued after the lawyer insisted that he see a client who was being transferred to prosecution. The argument escalated, with the lawyer physically and verbally assaulting the policeman, they said.
When a lieutenant intervened, the attorney allegedly attacked him as well.
The lawyer's colleagues then gathered outside the police station and attempted to storm it, they said.
The injured lawyers said a lawyer, Mohamed Abdel Alim, headed to the Nasr City Police Station to inquire his client's detention, which led to an altercation between Abdel Alim and a number of police officers. They said Abdel Alim called for help from his colleagues at the station, leading to the escalation.
"A verbal altercation broke out between the lawyer and the policeman, during which the lawyer insulted the policeman after the latter asked him to wait until he finishes some papers in his hand," investigators said. "A number of the station's senior police officers intervened to break up the argument, and the lawyer insulted them as well, and called for a number of his colleagues, which led to the escalation of the matter."
The Lawyer's Syndicate issued a statement on Saturday condemning the attack on the lawyers and demanded an investigation into all the officers involved.
Edited translation from Al-Masry Al-Youm