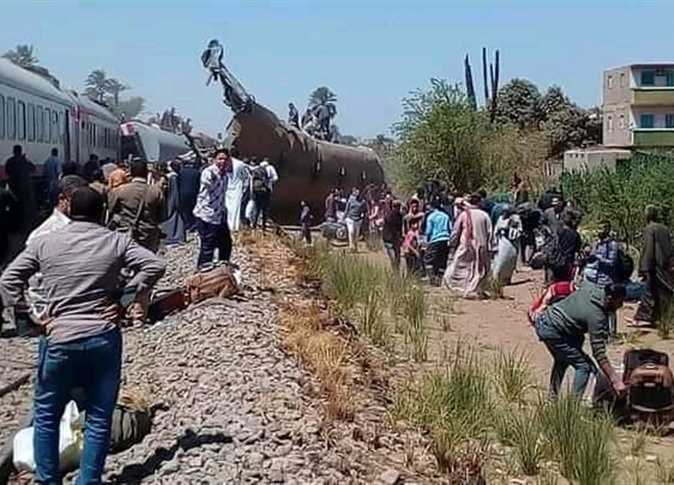 Egypt's Public Prosecution has remanded 23 suspects involved in Sunday's train accident in Toukh, which killed 23 people and wounded 139 others.
The workers remanded by prosecutor Hamada al-Sawy include the train conductor, his assistant, the supervisor of the railway maintenance in the area where the accident occurred, the general director of the renovations of the tracks, the general director of maintenance, mechanical engineers, a group of workers and technicians specialized in the maintenance of train vehicles, a technician at Shubra al-Khaima station, and workers at Misr Station.
Sawy also ordered the arrest of the director of the Railways Engineering Department in the area of ​​the accident and one other engineer, due to negligence and failure to observe laws and regulations while performing their jobs.
The prosecutor further ordered the release of both the Director General of Infrastructure Maintenance and the Head of the Central Department for Unit Maintenance, if the first pays LE100,000 for bail and the second pays LE50,000 for bail.
The Egyptian National Railways authority is conducting an investigation to determine the causes of the accident, which occurred at approximately 2:05 pm in the country's Qalyubia Governorate.
The Cairo-Mansoura train #949 had departed from Cairo at 1:20 pm and was scheduled to arrive in Mansoura at 5 pm.
Train accidents have been a common occurence in Egypt, with some resulting in a large number of deaths and injuries.
Egyptian President Abdel Fattah El-Sisi has ordered a rebuild of Egypt's national rail system in which authorities will update the lines, add new lines, and increase overall safety.
The railway renovation is part of a larger ongoing transportation overhaul that includes new high-speed trains, additional metro lines, and road improvement projects.