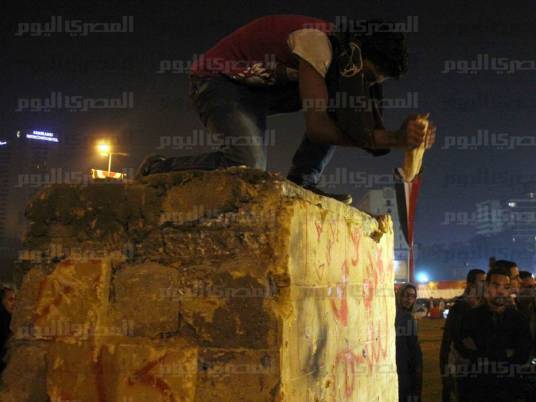 Protesters destroyed Tahrir Square memorial early Tuesday morning, hours after its inauguration by the Prime minister and other government officials.
They broke the plate holding the prime minister's name and sprayed the monument, writing slogans against both the current interim government and the former Muslim Brotherhood regime; "down down with the military rule and the Muslim Brotherhood" is an example. Protesters also chanted against interim President Adly Mansour, Defence Minister Abdel Fattah al-Sisi, deposed President Mohamed Morsy and former head of the Supreme Council of Armed Forces Mohamed Hussein Tantawy.
The Tamarod campaign, key movement behind 30 June protests that led to the ouster of Morsy, announced on Facebook that it would not participate in the celebrations of Mohamed Mahmoud clashes' second anniversary after "unfortunate event" of destroying the memorial and "due to expected violence by members of the Muslim Brotherhood", according to a statement published on the movement's official Facebook page.
The memorial erected by the interim government was built in the memory of the martyrs of "25 January and June 30 revolutions".