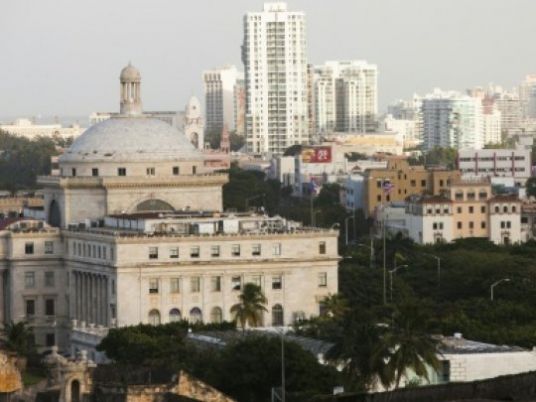 Puerto Rico has defaulted on debt by paying only a fraction of what was due August 1, showing the depth of the island's economic and cashflow problems and potentially opening the door to broader defaults and litigation from bondholders.
The US commonwealth paid only US$628,000 of a $58 million payment due on its Public Finance Corp (PFC) bonds, the head of its Government Development Bank said in a statement on Monday.
"Due to the lack of appropriated funds for this fiscal year, the entirety of the PFC payment was not made today," GDB head Melba Acosta said.
Puerto Rico Governor Alejandro Garcia Padilla shocked investors in June when he said the island's debt, totaling $72 billion, was unpayable and required restructuring. The non-payment marks the first default by the commonwealth and is the most notable since Detroit defaulted on $1.45 billion of insured pension bonds before filing for bankruptcy in 2013.
"(They are) telling investors they are serious about this debt adjustment," said Peter Hayes, head of asset manager BlackRock's Municipal Bonds Group, which does not own any commonwealth-backed debt. "It may be a precursor to how they make payments going forward if they can't reach amicable settlements with creditors groups."
A default could open the door to a fight with investors. Daniel Hanson, analyst at Height Securities, said in a research note last week that market participants would probably file a lawsuit in San Juan as soon as Tuesday.
According to Thomson Reuters data, holders of PFC debt include OppenheimerFunds, Franklin Templeton and Lord Abbett.
"We are disappointed that the Commonwealth of Puerto Rico did not make its scheduled payment of principal and interest today," said a spokesperson for OppenheimerFunds in a statement, who declined comment on the fund's PFC holdings. "We will vigorously defend the terms of the bond indentures."
Daniel Solender, lead portfolio manager at Lord Abbett, declined comment on PFC holdings but said he hoped Puerto Rico would reconsider the non-payment.
Franklin has declined comment about PFC holdings.
The price of PFC debt due 2031 fell to a record low ahead of the announcement, which had been well flagged, trading at 7.5 cents on the dollar. It was minimally active with one trade recorded on Monday. That price was down from 15.55 cents on the dollar last week.
"I'm not mad, I'm not surprised," said Ben Eiler, managing partner of First Southern Securities, ahead of the announcement Puerto Rico would only pay a fraction of the debt.
"They're making a strategic default, and they're prioritizing payments, and so they're going to do the ones that are less important first, and that's going to … strongly influence bondholders to negotiate," said Eiler, who personally holds PFC bonds.
One institutional investor who requested anonymity said he sold his PFC exposure about a month ago because he was "nervous they were going to default".
"It shouldn't have taken me so long to come to the conclusion that they were going to default," the investor said, noting he was glad he was now out of the position.
While Puerto Rico has argued that missing a payment would not constitute default because its legislature is not legally bound to appropriate the funds for payment, credit agencies and investors saw it differently.
"Moody's views this event as a default," said Moody's analyst Emily Raimes in a statement. "This is a first in what we believe will be broad defaults on commonwealth debt."
Standard & Poor's said the missed payment presages other possible defaults as liquidity becomes further constrained, and added it would impede the island's ability to obtain financing for cash flow needs. The credit agency lowered its rating on $1 billion of PFC debt following the default to "D" from "CC".
PFC bonds have weaker protections than many other Puerto Rico bonds such as general obligation debt.
Also on Monday, Puerto Rico said in a regulatory filing it had temporarily suspended making monthly deposits to its general obligation redemption fund.
The decision to skip the debt payment showed the commonwealth was prioritizing its citizens over creditors, investors said.
"While the PFC default was widely expected, the failure to appropriate means that the financial crisis in Puerto Rico has entered a new stage, one where the territory is prepared to balance its obligations to its creditors with what it perceives as the public service needs on the island," said Thomas McLoughlin, UBS chief investment officer wealth management research.
Acosta said the decision reflected "serious concerns about the Commonwealth's liquidity in combination with the balance of obligations to our creditors and the equally important obligations to the people of Puerto Rico."
Acosta said that PFC made a partial payment of interest in respect from funds remaining from prior legislative appropriations. The funds of $628,000 were applied to the August 1 payment.
"A government's primary responsibility is to provide services to citizens," said Hayes. "When you finally make the determination not to pay, you know you're effectively cutting yourself off from the capital markets, but from their standpoint they see it better of two evils."