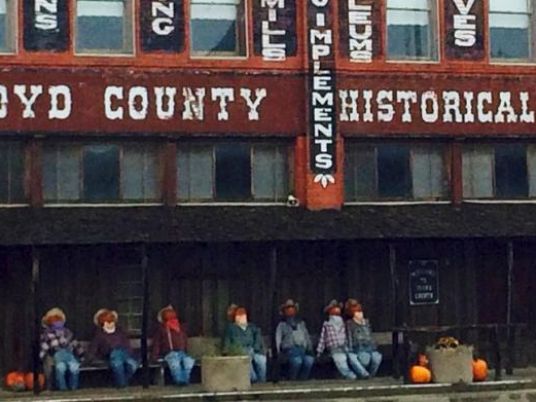 In Floydada, Texas, which calls itself "Pumpkin Capital, USA," Halloween is the time for farmers who produce more than a million of the orange globes to kick back and savor the mostly empty fields.
"It is one of the biggest headache crops," said Tim Assiter, owner of the Assiter Punkin Ranch & Pumpkin Ranch just outside of town. "You've got to love it to do it. It's not something that you do just for the money."
Pumpkins are heavier and can be harder to handle than almost any other crop in the Texas Panhandle flatlands, where cotton is king and corn is commonplace. Floydada is just another small town of a few thousand people trying to make a living working the land.
Although indigenous to the area, pumpkins are an oddity on the region's farms because they are tough to insure, and despite Floydada's nickname, other parts of the United States grow far more. Towns like Morton, Illinois, or Half Moon Bay, California, claim to be the "Pumpkin Capital of the World."
Farmers have about four weeks to hand pick, sell and ship the pumpkins that are grown for decorative purposes. "We now raise pink pumpkins, blue pumpkins, green pumpkins, leathery-tan pumpkins, orange pumpkins, white pumpkins and red pumpkins," Assiter said.
One constant has been Halloween.
Production in the area began in the 1950s when local farmer B.A. "Uncle Slim" Robertson planted pumpkins after being nagged by his wife to do so. The family first sold pumpkins by the side of the road and soon were shipping to Dallas, Assister said.
About 30 single-family farmers produced pumpkins in the area back then. Four operators now dominate the business.
In Floydada, the pumpkin producers know each other well, and the crop unites its 3,000 residents.
Pumpkin yields and pumpkin production have steadily grown to about 1.3 billion pounds a year, according to the US Department of Agriculture, with top production states including Illinois, California and Michigan.
Floydada's harvest is just a drop in the bucket, but the orange squash gives the town much of its identity.
At Halloween, pumpkin ornaments are found at nearly every house, along every corner and lining roadways. Since the late 1980s the town has held a "Punkin Day" festival, spelled in honor of the local slang, in the wake of the crop being loaded onto trucks.
Kimberly Perez, manager of the Floydada Chamber of Commerce, said the town offers some of the widest varieties of specialty pumpkins.
"We're at that spot where we need to decide where we want to take it from here, or do we just want to leave it alone?" said Floydada pumpkin grower Robert Rainwater.