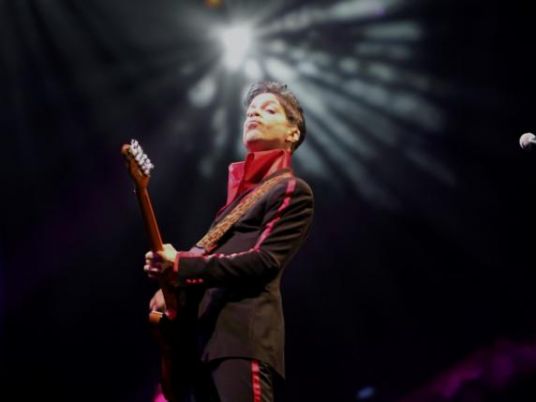 Prince, the innovative pop superstar whose songwriting and eccentric stage presence electrified fans around the world with hits including "Purple Rain" and "When Doves Cry" died on Thursday in Minnesota. He was 57.
His influential, genre-defying music blended jazz, funk, R&B, disco and rock, winning seven Grammy Awards and an Oscar.
Prince was found unresponsive in an elevator at his Paisley Park Studios compound, which included his home, in the Minneapolis suburb of Chanhassen, according to the Carver County Sheriff's Office.
In a transcript of a 911 call made from the complex and released by the sheriff's office, an unidentified male initially reported that someone was dead at the home, later identifying that victim as Prince.
The sheriff's office said it was investigating the circumstances. The local medical examiner's office said in a tweet that an autopsy had been scheduled for Friday.
Rolling Stones frontman Mick Jagger hailed his fellow singer and musician as "revolutionary" and one of the most unique and exciting artists of the last 30 years. Prince was an original lyricist and a "startling" guitar player, he added.
"His talent was limitless," Jagger wrote on Twitter.
President Barack Obama called Prince "one of the most gifted and prolific musicians of our time," and said few had influenced "the sound and trajectory of popular music more distinctly."
Distraught devotees gathered outside the Paisley Park compound in mourning.
"His music made the hair on your arms stand up," said one, Kristina Dudziak, 44. "It felt like he was making love to his guitar. … It's a sad day," she added, starting to sob.
Sheila E., a singer and percussionist who worked closely with Prince in the 1980s, wrote on Twitter: "My heart is broken. There are no words. I love you!"
The performer's death was the most notable passing of a music giant since rock star David Bowie died of cancer at 69 on Jan. 10.
Inventive and eccentric
Prince, whose hit songs also included "Let's Go Crazy," "I Would Die 4 U," "Raspberry Beret," "Little Red Corvette" and "Kiss," was on a U.S. tour as recently as last week.
Last Friday, he was briefly hospitalized with what his representative told celebrity news website TMZ was the flu after his plane made an emergency landing in Moline, Illinois.
The representative said Prince had performed in Atlanta despite not feeling well and felt worse after boarding the plane back to Minnesota, the website reported.
But over the weekend, the musician hosted a party at Paisley Park. One attendee, 26-year-old Jamie Reimann, said Prince appeared after midnight Saturday and played two tunes on a piano in what would turn out to be his final performance.
"It was just five or six minutes. He introduced his doctor … and asked fans to give him a round of applause and said the doctor was helping him feel better," Reimann said.
"He [Prince] looked fine, but his voice sounded like he might have had a cold or something. He didn't look sickly."
Prince first found fame in the late 1970s. Over the next three decades, he became known as one of the most inventive and eccentric forces in American pop music.
Often making a statement with bold fashion choices, the diminutive, 5-feet 2-inch-tall (1.57-meter) star sometimes appeared on stage sporting ruffled shirts and tight pants or elaborate costumes, including chain mail covering his face, a shimmery orange tunic with a cane, or bikini briefs.
"He was a legend," said another fan, Karen Menardy, 45, weeping outside New York City's storied Apollo Theater, where some passers-by danced in the street as Prince songs played on a portable speaker.
Outside the First Avenue nightclub in downtown Minneapolis, devotees placed photographs of the artist, a guitar and at least two dozen bouquets of flowers, many of them purple. "We love you Prince!" read a sign attached to one of the bouquets.
Calling Prince a "once-in-a-lifetime artist," music TV channel MTV changed its logo to purple in his honor, and Twitter lit up with reaction from stunned friends and fans.
He was regarded as a perfectionist who from 1993 to 2000 changed his name to an unpronounceable symbol in an apparent protest against his record label at the time. For a while, he was dubbed "The Artist Formerly Known as Prince."
'Private person'
An intensely private person, Prince sold more than 100 million records. He was inducted into the Rock and Roll Hall of Fame in 2004, and his most recent album, "HITnRUN: Phase Two" was released in December 2015.
Prince became a Jehovah's Witness about 15 years ago, and was a strict vegan. In 2009, he told PBS television about being born an epileptic and suffering seizures as a child.
He also said he was teased in school, and that "early in my career I tried to compensate by being as flashy as I could and as noisy as I could."
Prince's Oscar was for best original song score for "Purple Rain," the 1984 movie in which he also starred. In 2007, he played the Super Bowl in one of the most celebrated such performances.
While he was more accustomed to sold-out arenas, two years ago Prince played perhaps his most intimate gig in the living room of British singer-songwriter Lianne La Havas' London home with his band, 3rdeyegirl, Billboard said.
"We'll work our way up, if people like us, to bigger venues," Prince quipped then.
His music was marked by sexually charged lyrics and explosive live performances, while his private life was marked by a string of romances linking him with the likes of Madonna and actresses Kim Basinger and Carmen Electra.
Prince was married twice: to his backup singer, Mayte Garcia, in 1996 and then to Manuela Testolini in 2001. Both marriages ended in divorce, and a son he had with Garcia died a week after birth in October 1996.
"I loved him then, I love him now and will love him eternally," Garcia told People magazine. "He's with our son now."
Born in Minneapolis as Prince Rogers Nelson on June 7, 1958, he is said to have written his first song at age 7. As well as singing and writing, he played multiple instruments, including guitar, keyboards and drums.
In a 1998 interview with Reuters, Prince said he ignored critics and focused on a quest for great music. "I just do what I feel I'm supposed to do," he said.