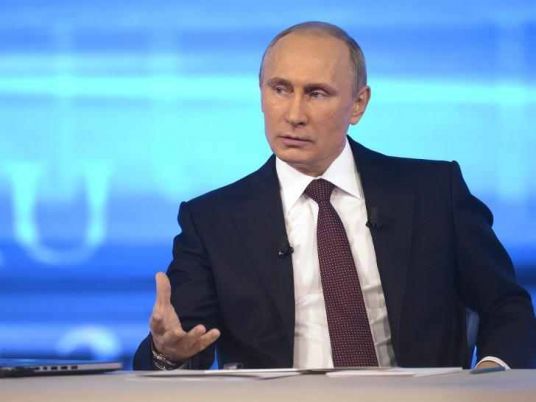 Russian President Vladimir Putin has revealed his intention of honoring Egypt's former defense minister and vice-president Abdel Hakim Amer, who died in 1967 in circumstances that many consider suspicious.
The former minister's son, Gamal Abdel Hakim Amer, received the news of the new honor in a phone call from the Russian Embassy in Cairo, in which embassy officials passed on personal greetings from Putin himself.
So far, no details have been released concerning the form the honor will take, nor the date and place of the award.
As defense minister and army chief-of-staff, Amer commanded the Egyptian Army in the Suez Crisis and the Six Day War, and also held the post of vice-president of Egypt for seven years under President Gamal Abdel Nasser.
Amer died shortly the Six Days war, in which Israel occupied Sinai Peninsula in 1967, with many blaming him for the defeat.
While his death was officially ruled a suicide, there are long-standing claims that he was murdered by those in Nasser's circle, the culmination of an ongoing power struggle between the two.
In particular, defenders of Amer's reputation say that he was unwilling to shoulder the entire blame for Egypt's military defeat, insisting that Nasser and others should share responsibility. As a result, they argue, Amer was murdered, and his death made to look like suicide.
Amer's widow published a book titled "The Road to My Destiny", in which she claims that a government forensic report states Amer was "killed", according to a report in The National. The former minister's life and death has also been addressed in a controversial documentary titled "Al Rais wal Moushir" (The President and the Marshal).
In 2012, military prosecutors began investigating the case at the request of Amer's family. Since then, his widow has told journalists that several experts in forensic science have confirmed the murder verdict, but the government has never openly given its backing to these conclusions.
Speaking with Al-Masry Al-Youm, Amer's son, Gamal, urged the judiciary to issue a statement on medical investigations into his father's death.
"What is important for us is declaring that he was killed, that he did not commit suicide," he said.
If Amer is given an award by Putin, it will not be the first from Russia, with former president Nikita Khrushchev awarding him the title Hero of the Soviet Union in 1964.
Gamal said that Khrushchev visited the minister's house in Cairo, along with former Egyptian President. Both Amer and Nasser received the title from Russia.
Edited translation from Al-Masry Al-Youm