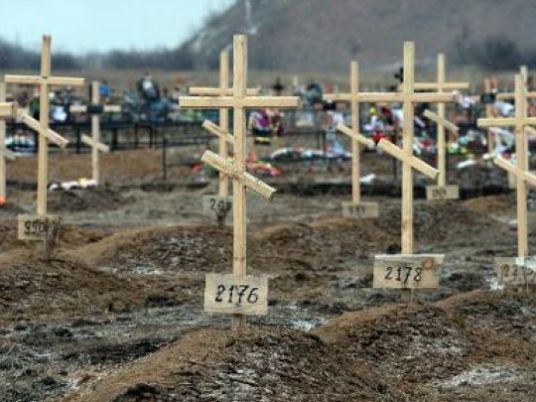 Russian President Vladimir Putin on Thursday signed a decree making military losses in "special operations" during peacetime a state secret, as the Kremlin continues to rebuff accusations its troops are fighting in Ukraine.
The amendment adds to the list of what Russia classifies as "state secrets" any "information revealing losses of personnel… in peacetime during special operations."
The addition means that those who release information about the deaths of soldiers sent on operations during peacetime could be prosecuted.
The decree gives no details of what exactly is meant by a "special operation". Revealing state secrets, when it does not involve handing them to a foreign state, is a criminal offence that can be punished by up to four years in jail.
Analysts said the change was aimed at stamping out any leaks on Russian military losses in Ukraine after activists released a string of evidence pointing to the deaths of government soldiers across the border in the former Soviet state.
"The reason is not to reveal losses in Donbass," said military analyst Pavel Felgenhauer, referring to the warzone in eastern Ukraine, adding that the legal move was designed to "imprison or scare people".
"I've never heard a legal definition of the concept of a special operation," said Felgenhauer. "That means you could classify anything you like as this."
The Kremlin has consistently denied government soldiers are fighting in Ukraine and claimed those fighting alongside rebels are there as volunteers.
Ukraine and the West insist Russia has not only armed and equipped the rebels but also sent in troops to spearhead fighting against Kiev's forces.
The presence of Russian troops has been backed up by reports from activists of hushed-up funerals, interviews with soldiers in the Russian media, and information gathered from relatives and social networking sites.
According to the latest survey by independent polling agency Levada published on May 5, only 20 percent of Russians believe government forces are fighting in Ukraine.
Forty-eight percent said they believed Russians were serving there as volunteers.