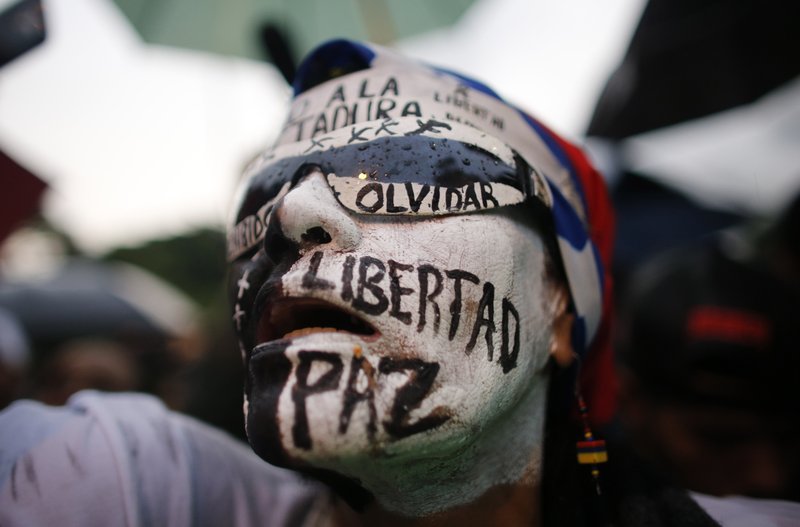 Resolving the North Korean nuclear crisis is impossible with sanctions and pressure alone, Russian President Vladimir Putin said after meeting his South Korean counterpart on Wednesday, again urging dialogue to achieve progress.
Putin met Moon Jae-in on the sidelines of an economic summit in the far eastern Russian city of Vladivostok amid mounting international concerns that their shared neighbor plans more weapons tests, possibly a long-range missile launch ahead of a key weekend anniversary.
Putin denounced Pyongyang's sixth and largest nuclear bomb test on Sunday, saying Russia did not recognize North Korea's nuclear status.
"Pyongyang's missile and nuclear program is a crude violation of UN Security Council resolutions, undermines the non-proliferation regime and creates a threat to the security of northeastern Asia," Putin said at a joint news conference.
"At the same time, it is clear that it is impossible to resolve the problem of the Korean peninsula only by sanctions and pressure," he said.
No headway could be made without political and diplomatic tools, Putin said.
South Korea's Moon, who came to power earlier this year advocating a policy of pursuing engagement with Pyongyang, has come under increasing pressure to take a harder line on North Korea.
He and Putin "shared the understanding that resolving the North Korean issue is top priority", Moon told reporters.
Moon has asked the United Nations to consider tough new sanctions on North Korea after the latest nuclear test. He said on Wednesday it was inevitable oil supplies to the North would be cut and asked Putin to cooperate. [S6N1IG00N]
Sanctions have so far done little to stop North Korea boosting its nuclear and missile capacity as it faces off with US President Donald Trump, who has vowed to stop Pyongyang from being able to hit the U.S. mainland with a nuclear weapon.
US Ambassador to the United Nations Nikki Haley accused North Korean leader Kim Jong Un on Monday of "begging for war" with a series of nuclear bomb and missile tests. She urged the 15-member Security Council to impose the "strongest possible" sanctions to deter him and shut down his trading partners.
Japanese Prime Minister Shinzo Abe, who will discuss North Korea with Moon and Putin in Vladivostok, said on Wednesday he wanted the North to understand it has "no bright future" if it continues on its current path.
China and Russia have advocated a "freeze for freeze" plan, where the United States and Seoul stop major military drills in exchange for North Korea halting its weapons programs, but neither side is willing to budge.
North Korea says it needs to develop its weapons to defend itself against what it sees as US aggression.
South Korea and the United States are technically still at war with North Korea after the 1950-53 Korean conflict ended with a truce, not a peace treaty.
Beijing objects to both the military drills and the deployment in South Korea of an advanced US missile defense system that has a radar that can see deep into Chinese territory. The US military said the four remaining Terminal High Altitude Area Defense (THAAD) batteries would be deployed on a golf course in the south of the country on Thursday.
Chinese Foreign Ministry spokesman Geng Shuang reiterated China's opposition to the THAAD system at a briefing in Beijing, saying it could only "severely damage" regional security and raise "tensions and antagonism".
"China expresses serious concern over the relevant movements," Geng said.
"China strongly urges the United States and South Korea to pay attention to China and other regional nations' security interests and concerns, immediately halt the progress of the relevant deployment, and remove the relevant equipment," he said.
Asian stocks tracked Wall Street's slide overnight to slip on Wednesday, while the dollar was on the defensive with tensions in the Korean peninsula showing few signs of abating. [MKTS/GLOB]
Sunday's test of what North Korea said was an advanced hydrogen bomb was its largest by far.
Japan upgraded its assessment of the North Korean test to 160 kilotons from 120 kilotons after the size of the earthquake it generated was revised to 6.1.
"Calculating based on this number, the estimated yield was 160 kilotons," Defence Minister Itsunori Onodera told reporters. "We estimate this was far bigger than previous nuclear tests."
Satellite imagery appeared to show the blast caused numerous landslides at North Korea's Punggye-ri test site, according to 38 North, a Washington-based North Korean monitoring project.
South Korean officials said they continued to monitor for radioactive fallout from the test and for signs of preparations for more activity as they pushed for a stronger international response.
Diplomats have said the UN Security Council could consider banning North Korean textile exports, barring its airline and stopping supplies of oil to the government and military.
Other measures could include preventing North Koreans from working abroad and adding top officials to a blacklist aimed at imposing asset freezes and travel bans.
British Defence Secretary Michael Fallon said on Wednesday China held the key to resolving the crisis, reiterating comments made by Prime Minister Theresa May and Australian leader Malcolm Turnbull after they spoke with Trump.
"China holds the key, the oil to North Korea flows from China … China has not just influence but has many of the levers that are needed to change behavior in North Korea," Fallon told BBC radio.