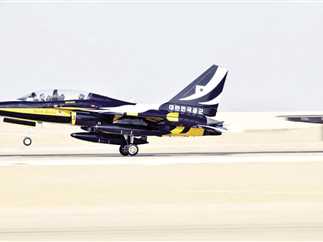 The activities of the Pyramids Air Show 2022 starts at the Pyramids area, on Wednesday. Spectators will hear and see the participating planes in the sky of Greater Cairo.
The South Korean Black Eagles team will participate in the show with a number of aircraft that will carry out a number of distinguished air shows.
The Egyptian Silver Stars team and the Egyptian Hel Gazelle team (Horus) to present impressive air shows, as well as Egyptian paratroopers presenting a number of performances during the festival's activities.
The Egyptian military music also participates with some patriotic pieces and plays accompanied by distinguished rhythmic movements.