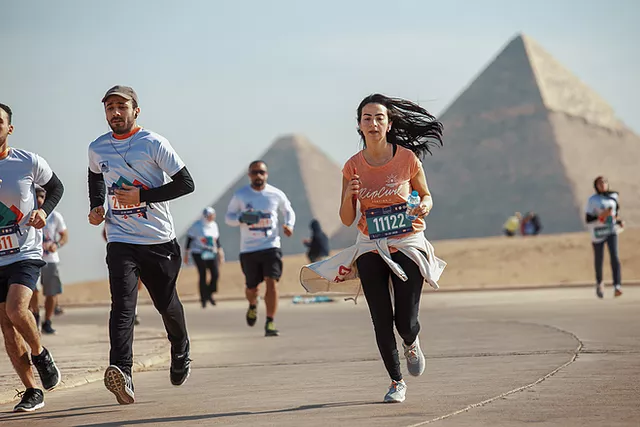 Egypt's Ministry of Youth and Sports announced Saturday that the Pyramids Half Marathon will be held on December 11, under the auspices of the Ministries of Youth and Sports and Tourism and Antiquities and organized by The TriFactory Group.
The ministry's press conference to announce the event was attended by officials from the Ministry of Tourism and Antiquities, and a group of ambassadors of the countries participating in the marathon.
A ministry statement said that the Pyramids Marathon is scheduled to be attended by 4,000 athletes from about 85 different nationalities.
The Pyramids Half Marathon is receiving local and international attention as it is held in the Giza Pyramids area, one of the most important archaeological and touristic areas in the world.
The Assistant Minister of Youth and Sports Abdul-Awal Mohamed delivered a speech during the conference, in which he conveyed the greetings of Ashraf Sobhi, Minister of Youth and Sports, to the conference participants, wishing everyone success in the marathon activities.
Egypt is eager to continuously host various sporting events and tournaments, he explained, and is working to organize and direct them in the best manner.
The Director of Sports Tourism Ahmed Abdel Khalek said that the policy of the Ministry of Youth and Sports aims to make Egypt a top spot for international sports federations to host their various competitions.
He added that the ministry aims to host major international sporting events within an annual international agenda, which contributes to revitalizing Egyptian sports tourism in cooperation with various stakeholders.
Egypt's signature running event features three classic distances, five kilometers, 10K, & 21K, meaning runners of all ages and abilities can take part and run through 5000 years of history, says TriFactory.