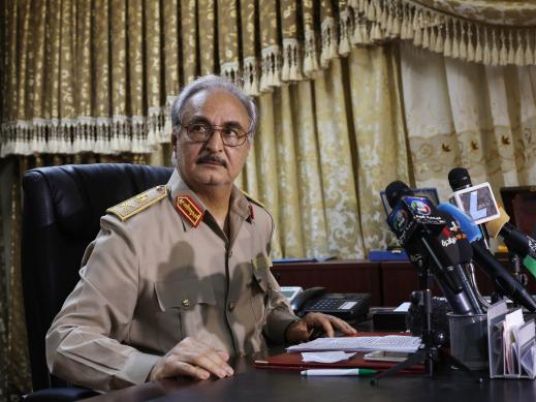 Libyan National Army commander Khalifa Hafter has accused Qatar of backing terrorism in Libya and said in a statement: "the terrorist action carried out by Qatar on Libyan territory will not pass without charge."
Hafter previously accused Doha of funding extremist groups linked to al-Qaeda.
Qatar's funding of armed terrorist groups in Libya and its support of extremist militias with money and weapons has not stopped since February 2011, the Libyan News Agency reported on Wednesday.
The amount of funding from Doha to these groups since 2011 exceeded 750 million euros, according to the Libyan News Agency.
Accoring to the news agency, the groups and militias included well-known al-Qaeda-linked organizations such as the Ansar al-Sharia organization, the Benghazi Revolutionary Shura Council and the Libyan Fighting Group in Derna.
Chairman of the Presidential Council of Libya Fayez Al-Sarraj discussed with NATO Secretary-General Jens Stoltenberg the political and security situation in Libya and expressed his hope that cooperation with NATO would contribute to stability and security in Libya.
Stoltenberg stressed that the alliance strongly supports the Libyan government in reconciliation, adding it would provide Libya with support in building defense and security institutions.
Sarraj also discussed with French President Emmanuel Macron in a telephone call the activation of training programs for the Presidential Guard, and joint coordination with France for the construction of the army and police forces, and securing of land and sea borders.
Edited translation from Al-Masry Al-Youm