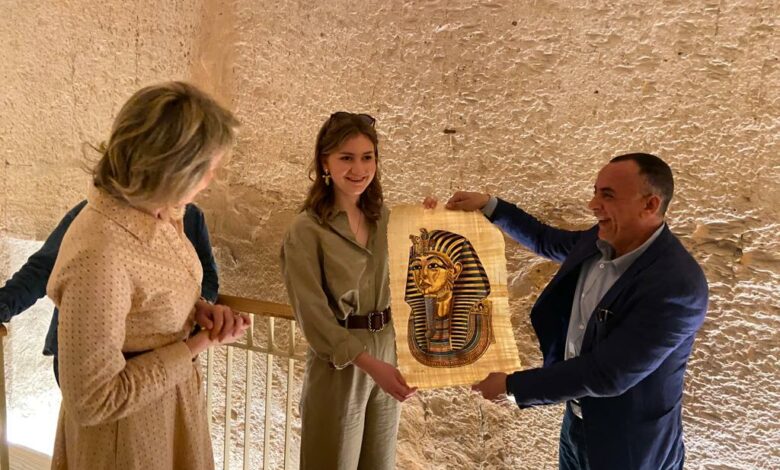 Queen Mathilde of Belgium and Princess Elisabeth, Duchess of Brabant in Belgium toured monuments in Luxor Governorate on Wednesday, as part of their visit to Egypt on official business.
The Secretary-General of the Supreme Council of Antiquities, Mostafa Waziri, said that the tour included the workplaces of the Belgian archeological missions in the governorate, in addition to the tomb of King Tutankhamun in the Valley of the Kings.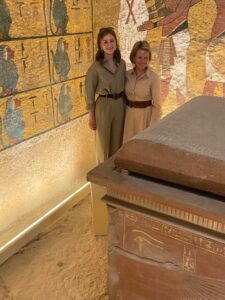 Waziri told them about the history of the tomb and the story of its discovery by archaeologist Howard Carter in 1923.
The minister also presented a souvenir to the Queen of Belgium during her visit to Egypt, which was a papyrus containing depictions of Queen Nefertari and Tutankhamun.
After the visit, the Queen of Belgium and Duchess of Brabant went to Luxor city, where they were accompanied in a tour by Egyptian archaeologist and former Minister of Antiquities Zahi Hawass.
Under the title "1923-2023: Queen Elisabeth of Belgium – in Egypt", Her Majesty Queen Matilda of Belgium, Her Royal Highness Princess Elisabeth, Duchess of Brabant in Belgium, and Egypt's Tourism Minister Ahmed Issa, inaugurated a temporary exhibition of photographs at the Baron Empain Palace in Heliopolis.
This is part of the celebration of the 100th anniversary of the visit of Queen Elisabeth of Belgium and her son, Crown Prince Leopold, to Egypt to attend the official opening of the tomb of the golden king Tutankhamun in February 1923.
In 1930, King Albert and his wife, Queen Elisabeth, returned to Egypt on an official visit, followed by a private trip, during which the Queen visited many archaeological sites.
During the exhibition, films documenting Queen Elisabeth's two trips to Egypt will be shown for the first time, which have been preserved since they were filmed in the Royal Archives of Belgian Films and were recently digitized to be revived and shown again.