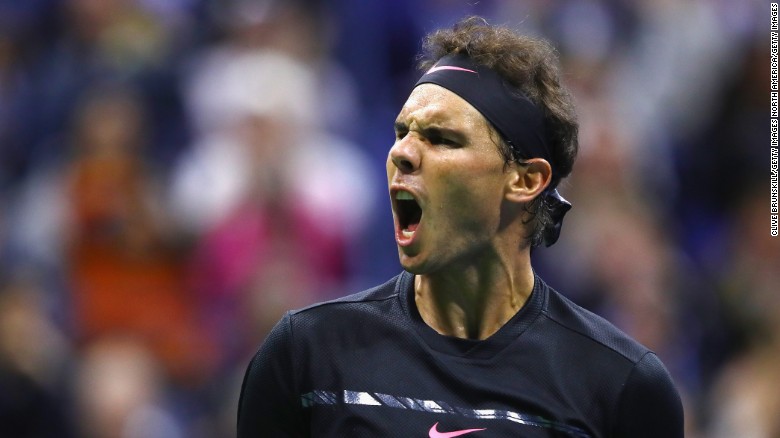 Rafael Nadal made sure there wouldn't be a repeat of 2009. The world No. 1 from Spain advanced to the US Open final with a 4-6, 6-0, 6-3, 6-2 win against No. 24 seed Juan Martin del Potro of Argentina on Friday at Arthur Ashe Stadium in Flushing, New York.
Nadal, who is seeking his 16th grand slam title (second only to Roger Federer), will face a first-time grand slam finalist in South African and No. 28 seed Kevin Anderson, who defeated No. 12 seed Pablo Carreno Busta of Spain 4-6, 7-5, 6-3, 6-4.
This will be Nadal's 23rd career major final. Nadal, 31, has won 15 consecutive grand slam semifinal appearances since he lost to del Potro in the 2009 US Open. This will be his third major final this year. He lost the Australian Open to Federer and defeated Stan Wawrinka for a 10th French Open title, making him the only man or woman in the Open Era to win a single grand slam event 10 times. Nadal last made it to three major finals in one year in 2011.
Following Friday's win, ESPN asked Nadal on court whether he thought a year ago — when he lost in the round of 16 in New York — that he would reach three major finals in 2017 with the chance to win two titles.
"I would say, 'Thanks, but it's almost impossible,' Nadal replied. "But here we are."
Nadal entered Friday with an 8-5 head-to-head record against del Potro, but the 28-year-old Argentine had the edge on the hard court, including the last two meetings: 2013 in Shanghai and in the semifinal in the 2016 Rio Olympics. At the 2009 US Open, del Potro defeated Nadal in straight sets in the semifinal and went on to beat Federer in five sets in the final for his only grand slam title.
That moment eight years ago has been the biggest grand slam highlight for del Potro, who has undergone four wrist surgeries in his career. Friday's win levels Nadal with del Potro at 5-5 on that surface, and he was in fine form at Ashe.
Del Potro broke in game five and held on to win the first set. But in the second set, Nadal went on the offensive, utilizing the inside-out forehand to put a bagel on the Argentine to level the match and to win the next nine consecutive games. Del Potro, who was sick in this tournament, couldn't slow Nadal down after that. Tiger Woods, himself a 14-time major golf champion, cheered the Spaniard on from Nadal's box in the stands.
"I was not playing bad the first set, but I was playing too much against his backhand," Nadal said. "I feel he was waiting for me there and then he had the opportunity to cover his backhand with his forehand because I was hitting too many balls against his backhand.
"Then at the beginning of the second (set), I knew that something had to change. The only way to change is to try to move him more to leave the ball a little bit more unpredictable. Because being the way that I was playing the first set without playing bad, I was losing, so something had to change."
He may not be ranked near the top or have as many titles, but there is no doubt that del Potro is a top-level player. He came into Friday night with eight career wins over a world No. 1, the most among players who have never ranked as world No. 1 since July 1984, when records first were kept. This was his first major semifinal since 2013 at Wimbledon. Nadal has two US Open titles, winning in 2010 and 2013.
It's been a long wait for the 31-year-old Anderson to reach a grand slam final — and for his home country. Anderson is the first South African to reach a US Open final since Cliff Drysdale in 1965 and any grand slam final since Kevin Curren at the 1984 Australian Open.
The last South African to win a major is Johan Kriek, who won the 1981 Australian Open. Kriek represented the US when he won the 1982 Australian Open.
Carreno Busta, 26, started the afternoon attempting to become the first US Open champion since Neale Fraser in 1960 to win the title without dropping a set. In his road to the semifinals, he had gone 15-0 in addition to winning the first set against Anderson. All of his opponents were ranked outside of the top 30.
But he couldn't get by Anderson, who stands at 6 feet, 8 inches. The South African won 83 percent of his first serve points and had 22 aces Friday.
Both Anderson and Carreno Busta were first-time major semifinalists. Anderson is the lowest-ranked US Open finalist since the inception of the ATP rankings in 1973. "This is why we work so hard," Anderson said.
"It was an unbelievably tough match for me. I was pretty nervous starting out. I'm sure Pablo the same. It was the first time for both of us on one of the most famous stages in tennis, on the biggest court. Just what a fantastic crowd. I really had to dig deep there. I think just my emotion at the end sort of summed it up. I'm over the moon right now. I know I've given myself one more shot, but I'm really going to allow myself tonight just to really celebrate tonight's win."
Anderson is 0-4 in his career against Nadal and 0-6 against del Potro. But none of that seemed to matter on Friday. Anderson celebrated his win as if he had won the championship, climbing into the first row of seats to his support group.
"I really don't know what to say right now," a beaming Anderson said. "I don't know if the team hug is appropriate for (reaching) the finals, but it felt like the right thing to do."
While his wife Kelsey and brother Gregory were in attendance, his parents weren't watching live. They get too nervous, Anderson explained, and wait to watch a replay.
"I think they'll be pretty excited," he said.