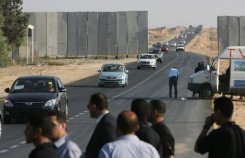 Egyptian authorities partially reopened the Rafah border crossing with the Gaza Strip on Monday morning, after it was completely shut down throughout the Eid holiday.
The Hamas Interior Ministry said in a press release on Monday that the Rafah border crossing was open to holders of residence permits, foreign passports, and medical patients approved by the Health Ministry.
The ministry said the Egyptian side of the border had resumed work with the same mechanism that took place during the month of Ramadan, meaning that the crossing would be open partially, from 11 am to 3 pm, with the same number of people allowed to cross.
The Hamas ministry appealed on the Egyptian side to return to a "full opening of the crossing to ease the suffering of Gaza Strip residents."
Hamas indicated that the Rafah border crossing operates according to an emergency system, which does not allow for more than 200 people to pass through each day. This system has been in place since the 30 June demonstrations.
Edited translation from DPA