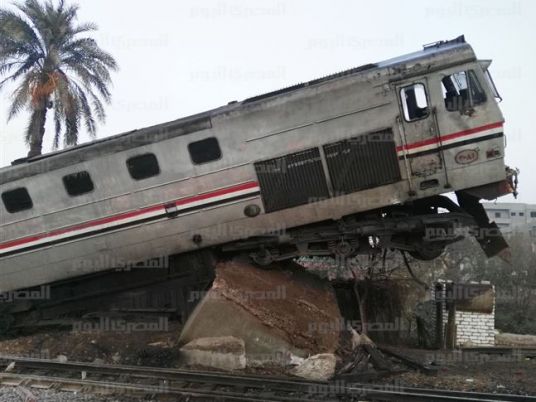 The resignation of the Chairman of the Railway Authority was accepted by the Cabinet on Sunday afternoon, over the Alexandria train collision which killed 42 people, Al-Masry Al-Youm reported.
The transport minister announced the appointment of Sayyed Salem as the new chair of the Authority on Monday.
Informed sources said other Railway Authority officials would be fired in the coming hours.
On Sunday, East Alexandria prosecutors ordered the detention of the drivers and their two aides 15 days, pending investigation.
Other station employees of the two trains were interrogated and released, including Chairman of the Railway Authority Medhat Shousha.
The driver of the Port Said train said during investigations that the reason for his stop was a stop signal on the semaphore [railway signal]. He denied that the train had a malfunction, adding that he notified the responsible railway worker of his stop. The worker, on the other hand, denied that he received a signal from the Port Said train driver.
The Cairo train driver, who hit the Port Said train from behind after it stopped, said he did not receive a notification of the halt of the train. The driver said he was surprised by the other train and couldn't stop, so he collided with it.
East Alexandria top prosecutor Walid al-Behairy ordered, on Sunday, blood samples from the two drivers for a drug test.
Prosecutors started interrogating officials related to the train collision on Saturday, which occurred on the outskirts of Alexandria on Friday. They listened to the testimony of 193 victims and inspected the scene of the incident.
Prosecutors seized the black boxes of the two trains and formed a committee of engineers to inspect the state of the two trains and the rails.
The collision occurred in the Khurshid area near Sidi Gaber station in Alexandria leaving 42 dead and 133 injured.
Upon inspection of the scene, security sources revealed that the collision was between a train coming from Cairo and another coming from Port Said. They crashed a few kilometers from Sidi Gaber station, when the Port Said train stopped after a sudden failure, leading the Cairo train to crash into it from behind.
Edited Translation from Al-Masry Al-Youm