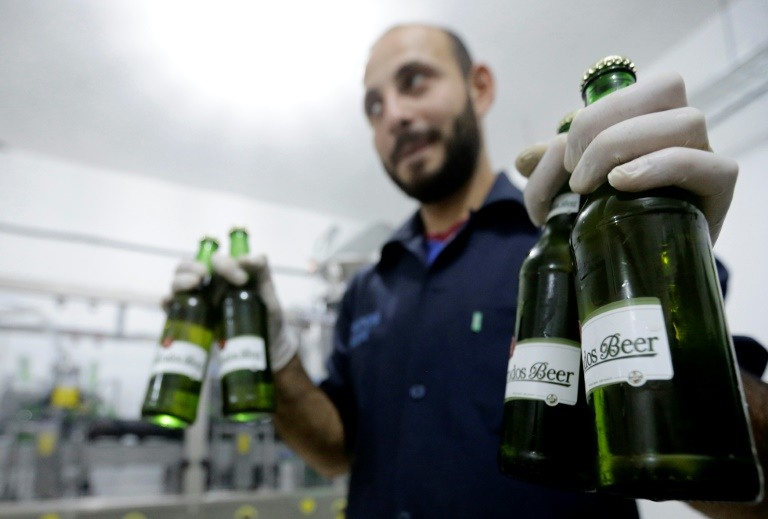 For years, Abu George's bar in Damascus's Old City served imported beers under portraits of famous foreigners Che Guevara and Marilyn Monroe — but the brews on offer now are Syrian-made.
When war broke out in 2011, Syria's two main breweries halted production, leaving consumers sipping on foreign, and more expensive, beers.
But as fighting has subsided across much of the country this year, a new pair of local lagers has hit the markets.
Tiny pubs line a cramped alleyway in the historic heart of Syria's capital, where a group of girls dressed in white distribute free bottles of "Afamia" to passers-by.
Customers at Abu George's bar reach out for a few of the brown bottles, emblazoned with a blue and gold label proclaiming Afamia to be the "Beer of Syria".
"It's a lovely initiative," says Ghassan Salloum, who co-owns the popular watering hole.
"The beer will be well-received — people want a national brew."
The bearded 61-year-old floats between tables to top up the bowls of salted peanuts that inevitably accompany chilled ales, as loud music drowns out the clinking of beer bottles.
"I've been here for 20 years, since a time when the national beer was really in demand," Salloum says, and Syrian spirits have continued to be a favourite.
Before 2011, two local brews dominated the Syrian market: Barada, produced at a brewery outside Damascus, and Al-Sharq, based in second city Aleppo.
– Syrian brews once more –
Al-Sharq shuttered its doors as violence in Aleppo escalated. The Barada brewery was ravaged by fighting, with Syria's government blaming "extremists" and rebels accusing the army of shelling it.
"I was very sad when the war destroyed the breweries, so today I'm happy to have Syrian beer again," said Elias, a 27-year-old customer at Abu George's.
He sipped on a cool Afamia, named after the celebrated city of Apamea in central Syria.
The Afamia brewery on the eastern edge of Damascus had been all prepped for production in 2010, but after Syria's conflict broke out early the next year, the factory shut down and the lagers never hit the stores.
But the owners resumed production at the end of this summer and the bottles are now being distributed widely, from Damascus to central Homs and all the way to Tartus on the coast.
Along the "bar boulevard" in the Old City, Afamia promoter Sabbah Khaddur looks on as cases of the brew are delivered to pubs.
"I was scared I'd never have Syrian beer again. I really wanted to taste a beer that had a Syrian name," Khaddur, 42, tells AFP.
The dream, he says, would be to see Afamia become "one of the biggest breweries in the region", competing with locally produced ales in Lebanon or Egypt.
– Czech ingredients –
Along Syria's Mediterranean coast, a second brewery is churning out another brew — with Czech help.
After the war erupted, many countries cut off diplomatic ties with Syria, and economic sanctions by the United Nations and Western countries complicated trade.
But the Czech republic was one of the few states not to sever relations, and brewery-owner Bassel Abbas is taking advantage of this.
To produce his Arados pilsners, Bassel Abbas is bringing in everything from hops and barley water to caps, labels, bottles, and expertise from the Czech republic.
"The Czech embassy kept its doors open, so the contact is easier between our two countries," says Abbas.
But the beer itself, he insists, is 100 per cent Syria-produced.
Green bottles are sterilised and filled on a conveyer belt at the brewery in Safita, a town Abbas says he chose because it was spared the violence that tore through other parts of Syria.
A simple white sticker identifies the beer as Arados, named after an island off the coast of Tartus.
"The primary materials are all Czech and weren't included under the sanctions," says Abbas, 37, who lived in the Czech republic for years.
Arados hit the bar scene this summer and sells for 435 Syrian pounds a bottle (80 cents) compared with foreign brews which cost 600 pounds ($1.50).
Neither Arados nor Afamia are sharing their sales numbers yet, but Abbas says he has struggled to promote his brand in a country "where advertising alcoholic drinks is not allowed".
"But it's not just a question of profit," Abbas says.
With so many around the region and the world associating his homeland with war, bombardment, and jihadist groups, "this beer presents a picture of Syria that's far away from extremism".