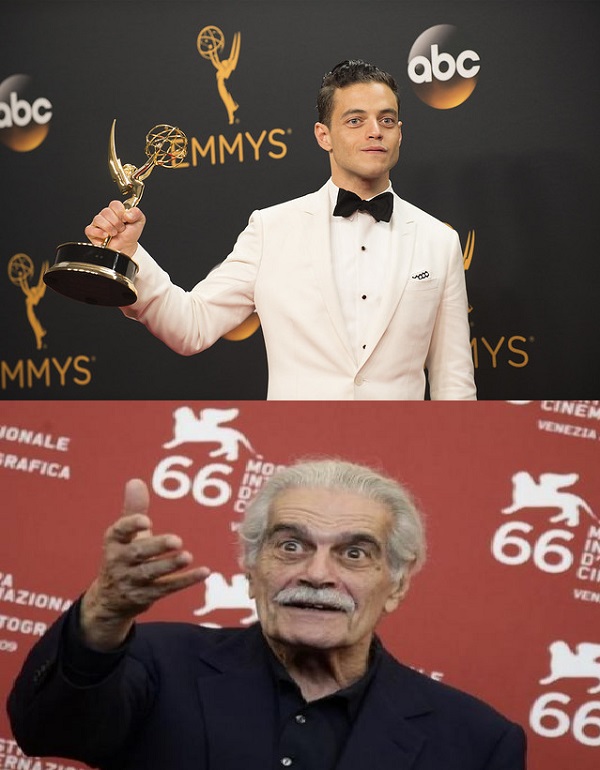 Omar Sharif lived as an international star in Hollywood.
His three most important films came while he lived in America: "Lawrence of Arabia" (1962), "Doctor Zhivago" (1965) and "Funny Girl" (1968). He won three Golden Globe awards, and a César Award. Sharif had extraordinary charisma and was fluent in five languages, yet despite it all he never won an Oscar.
Then along comes the young Rami Malek decades later, becoming the talk of Hollywood after winning an Oscar at just 38 years old.
The son of parents from Upper Egypt who immigrated to America, Malek's father worked as a tour guide, and he has a twin brother named Sami and a sister. Acting since 2004, in that time Rami has received 14 awards, including an Emmy Award in 2006. He also received the Golden Globe, and now finally has the Oscar placing him among world-class stars, becoming one of the most important modern actors in Hollywood.
Rami earned the Oscar for his role as Freddie Mercury in "Bohemian Rhapsody" (2018), which he dedicated to his parents and girlfriend.
I've been invited to the Taormina Film Festival, Italy. It is the second important cinema festival next to the Venice Film Festival. A festival official told me that Rami Malek had been invited to the festival and was excited to attend, but apologized for not being able to come as he was working on the upcoming James Bond film as the villain.
After that he found that the role could be considered offensive towards Egypt and apologized for it. I believe he considered turning it down as well.
I knew that he only speaks a few words of Arabic, unlike the Egyptian-Canadian actor Mena Massoud, who skyrocketed in the Hollywood world for his titular role in "Aladdin" (2019), alongside Will Smith.
Massoud was born in 1991 in Cairo and therefore speaks fluent Arabic. He currently lives in Toronto, Canada. He played his role in Aladdin brilliantly, and made everyone fall in love with his songs and performance, but this role alone can't give him a Hollywood award, although I think there he is a new star born in Hollywood.
My last story is about Dina Anas Habib, known in the political world as Dina Powell. She played a new important role in the Bush administration. After that, she moved to Goldman Sachs, one of the most important financial companies in America. Dina is the third most important person in the company.
I came to know Dina when she was about five years old, when I traveled to Dallas at the time of King Ramses II's exhibition, where I met her father Anas Habib. He became one of my most important friends. Dina returned to work with Donald Trump as she is a Republican and a friend of Trump's daughter, yet she suddenly resigned and even refused the post of US ambassador to the United Nations.
Dina is fond of a novel written in Arabic and English by the late Jewish-Egyptian Lucette Lagnado. "The Man in the White Sharkskin Suit: My Family's Exodus from Old Cairo to the New World." The book tells the story of Lagnado's Jewish family, and how they left Egypt after the fall of King Farouk and the revolution.
Dina wants to produce this story in English and Arabic, and she wants Rami Malek plays role in it. She gave the story in Arabic to my creative friend the screenwriter Wahid Hamid to write it, though he apologized and turned it down. I asked him about the reason, and he said that while story is great, if he wrote the script the Egyptian people would sympathize too much with the Jewish family.
I think the reason behind Omar Sharif not getting the Oscars was the presence of giant, immensely talented actors at his time. Now there are fewer actors up to the Oscars, though Rami Malek was exceptional in portraying singer Freddie Mercury.
Omar Sharif, Rami Malek and Mena Massoud have raised Egypt's reputation throughout the world.