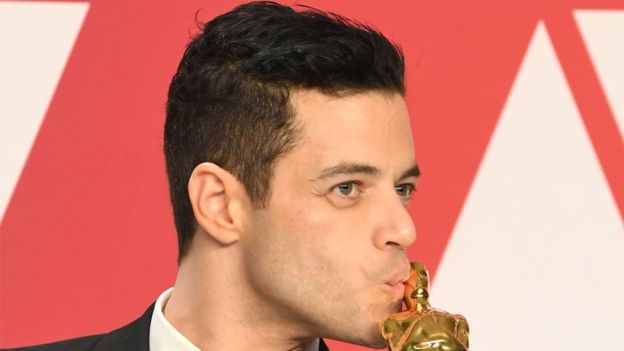 The freshly Oscar-winning star of Bohemian Rhapsody and Mr. Robot Rami Malek, who is expected to play the role of a villain in Cary Fukunaga's upcoming project Bond 25, was concerned to accept the role.
In an interview with The Mirror, Malek affirmed that he would not have accepted to star in the highly anticipated movie if he would have featured as an Arabic-speaking terrorist who justifies his merciless crimes through religion.
Rami expressed his excitement for the role. However, he commented, "But that was one thing that I discussed with director Fukunaga. I said, 'We cannot identify him with any act of terrorism reflecting an ideology or a religion.'
Malek revealed the conditions he shared with the director, explaining that he told him that if Malek's origins were behind Fukunaga's choice to cast him, then he could count him out. However, the director made it clear to Malek that that was not his vision for the character, confirming that the Oscar winner will feature as an entirely different kind of terrorist.
"It's another extremely clever script from the people who have figured out exactly what people want in those movies," Malek added.
Malak also declared that the rationale behind his standpoint is the significance of fair presentation. He showed his debt to his Egyptian origins and "fabric", according to The Mirror's interview.
Throughout his interview with The Mirror, Malek bared deep gratitude for his ethnic background, paying tribute to his parents who emigrated from Egypt to the U.S. looking for opportunities for their children despite all the challenges they might have faced in the foreign country they headed to almost thirty years ago.
Voicing his pride in his Egyptian heritage, Malek talked about his love for Egyptian music and actors, including the late prominent international actor Omar El-Sherif.
"I feel so gorgeously tied to the culture and the human beings that exist there," he told The Mirror.
Two months ago, the heavily rumored news regarding Malek's participation in the movie was confirmed when he officially expressed his enthusiasm about joining the crew.
The official plot summary reads that he will feature as "a mysterious villain armed with dangerous new technology." He did not add further details.
Bond will again be assigned to protect the world from a spectral adversary–all in a day's work for 007.
The plot summary also mentions: "Bond has left active service and is enjoying a tranquil life in Jamaica. His peace is short-lived when his old friend Felix Leiter from the CIA turns up asking for help."
The plot continues with his mission to save a kidnapped scientist who unexpectedly becomes disloyal, leading Bond on the trail of the mysterious villain.
Egyptian-American actor Malek won the Oscar for Best Actor at the 91st Academy Awards for his exceptional portrayal of Freddie Mercury, the legendary frontman of the British rock band Queen, in the biopic film "Bohemian Rhapsody".
Malek is also known for his role in the USA Network television series "Mr. Robot". He has received several awards for his role so far, including the Golden Globe, Screen Actors Guild Award, BAFTA, and more.
"I will be making sure Mr. Bond does not have an easy ride in this, his 25th outing. See you all soon," Malek said in the video.
The Bond Craig said jokingly after Rami's words that he was "scared" of what lay in store for Ian Fleming's suave secret agent.
The movie is expected to hit screens in April of next year.