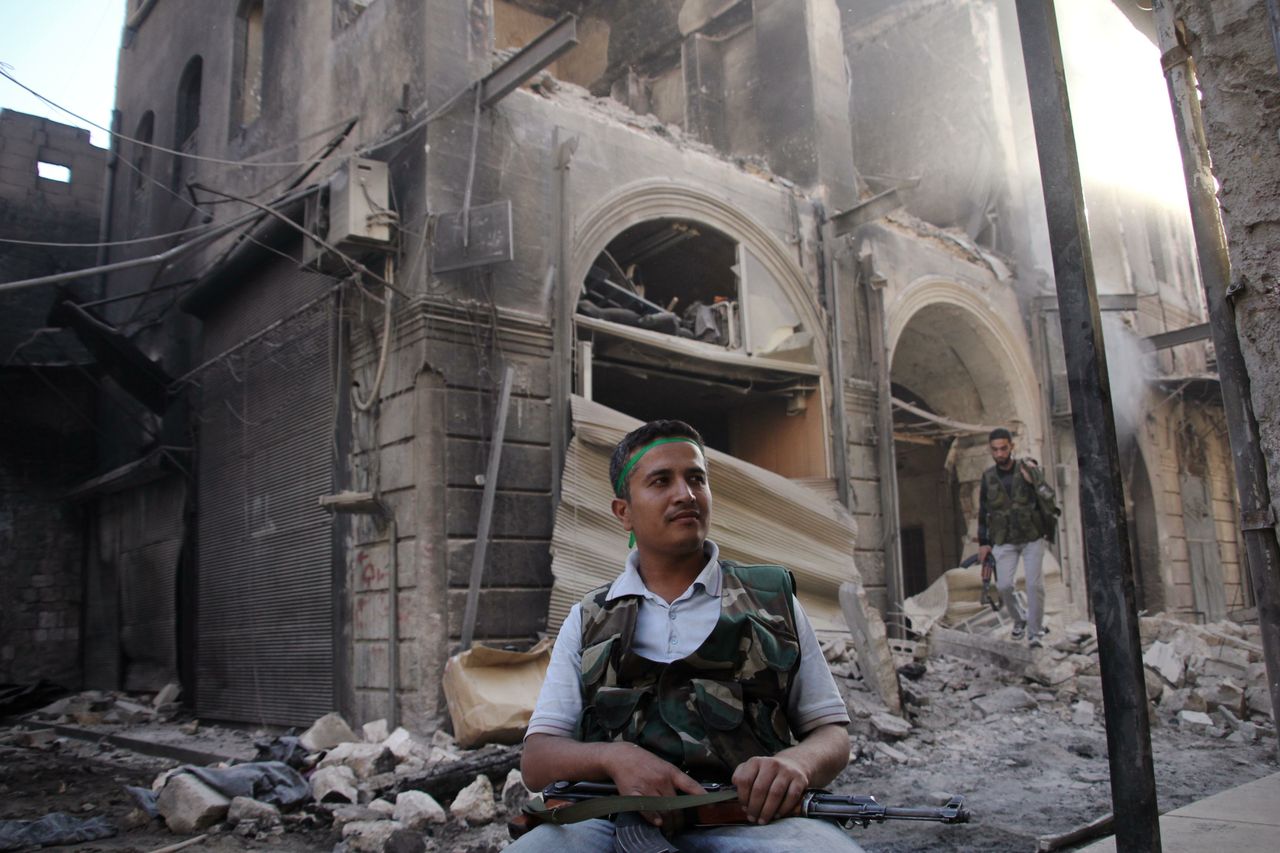 Syrian rebels are battling to seize an army base close to the main north-south highway and say its capture would be a big step toward creating a "safe zone" allowing them to focus on President Bashar al-Assad's southern strongholds.
For two weeks they have surrounded and attacked Wadi al-Deif, east of the town of Maarat al-Numan. They say the ferocity of counter-attacks by government forces shows how important holding the base is to the president's military strategy.
Assad is fighting an insurgency that grew out of protests 19 months ago and has escalated into a civil war in which 30,000 people have been killed. His overstretched army has lost swathes of territory and relies on air power to keep rebels at bay.
If Wadi al-Daif fell to rebels, who already control northern border crossings to Turkey, Assad would be dependent on a single land route — from the Mediterranean port of Latakia — to supply his forces fighting to win back Aleppo, Syria's biggest city.
"The battle started 11 days ago. At first we sent small groups to liberate (the base) and we were surprised by the resistance the regime forces showed," said Lieutenant-Colonel Khaled Hmood, a former army officer who defected to fight Assad.
"The regime is fighting fiercely. It seems that it doesn't care if it loses thousands of troops in order to keep its control over the compound."
Maarat al-Numan has already fallen to Assad's opponents, effectively cutting the Aleppo highway. But without control of the nearby military base, their hold over the road is tenuous.
Hmood said he believed around 400 soldiers were defending Wadi al-Deif — a group of barracks barely 500 meters from the Damascus-Aleppo road and backed by air power that Assad has deployed against rebels and Maarat al-Numan residents.
The base may also be an important fuel depot, holding at least 5 million liters of kerosene in five underground bunkers, according to Hmood..
"The regime is bombarding Maarat al-Numan and the villages to pressure us to end the siege," he said. "By bombarding our families they want to force us to pull back."
Anti-Assad activists say 40 civilians were killed in air strikes on the town last Thursday in one of the most intense air offensives of the Syrian conflict.
Army repulsed
The army has resorted to supplying Wadi al-Deif by air, dropping bread and other food supplies from helicopters.
But its efforts to send military reinforcements have been repulsed by the besieging rebels. The last attempt on Sunday ended when four tanks were destroyed and the remnants of an army column had to pull back.
"We have noticed that the best strategy is to hit its supply line. We have been harming the regime a lot by hitting the reinforcements it is sending," Hmood said.
Hmood said that if rebels could take the base and secure the highway, they could intensify efforts to cut Assad's second main supply line to the north — the road from Latakia to Aleppo that passes through the town of Jisr al-Shughour.
"If we liberate these barracks we will be able to protect our backs and move on to Jisr al-Shughour from which we can block supplies and reinforcement coming from Latakia," he said.
"This will give us a de-facto free zone … The north will be liberated and will be our enforced free zone, and the battle will be in the south of the country."
The rebels still face challenges to take the base. Although they have acquired increasingly deadly arms, including artillery and anti-aircraft weapons, they have regularly complained that they have only limited supplies to keep up the fight.
There have been bouts of heavy fighting along the border with Turkey with some rounds of heavy weapons fire crashing on Turkish territory, prompting Ankara to beef up its military presence and return fire.
On Tuesday, an anti-aircraft shell fired from Syria hit a health center in the Reyhanli district of Turkey's Hatay province but there were no reports of injuries, CNN Turk television said.
Tension between the two formerly allied states has soared since Turkish Prime Minister Tayyip Erdogan broke with Assad last year over his violent crackdown on popular protests.
The sporadic skirmishes along the border have heightened concern that Syria's civil war could drag in regional powers.
International mediator Lakhdar Brahimi, who ended a four-day visit to Damascus on Tuesday, has pushed for a ceasefire to mark the Islamic holiday of Eid al-Adha, which starts on Friday, hoping for a respite from daily death tolls of around 150.
But he did not win a public commitment to a truce in his talks with Assad, and the rebels say there is little point to a ceasefire that cannot be monitored or enforced.
Assad granted a limited amnesty for crimes committed up until Tuesday, excluding those involved in weapons smuggling.