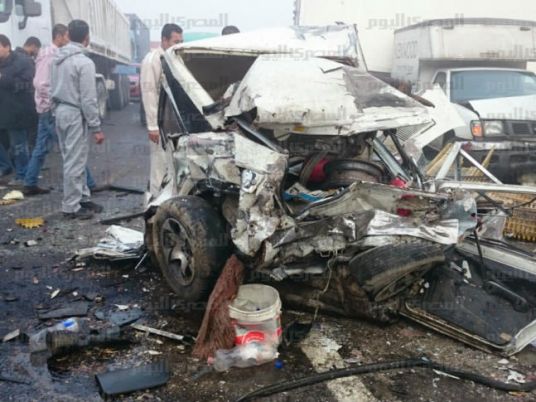 A traffic accident south of the Red Sea at the Shalateen-Aburamad road has killed 3 people and left 11 injured.
Initial investigations into the accident revealed that the victims were illegal Syrian migrants coming from Sudan.
The driver of the vehicle was arrested.
A number of ambulances were dispatched to the scene of the accident and transferred the victims to Shalateen Hospital.
An official claim was recorded and prosecutors were notified for investigation.
Car accidents in Egypt rose by 17.8 percent in 2019, according to the Central Agency for Public Mobilization and Statistics (CAPMAS) reported, with 9,992 reported accidents compared to to 8,480 in 2018.
In a June 2020 report on traffic accidents, the agency added that the number of car accident deaths rose to 3,484 in 2019 – an increase of 12.9 percent.
In 2019, the reported recorded one accident per 10,000 people, while the rate for vehicles was 0.9 accidents per 1,000 vehicles, and the death rate was 3.6 deaths per 100,000 people.
The rate of car accidents within Egypt increased to 27.4 accidents per day in 2019, it said.
CAPMAS attributed the main cause of car accidents to human error at 79.7 percent of the total road accident causes in 2019, followed by technical vehicle defects at 13.5 percent.