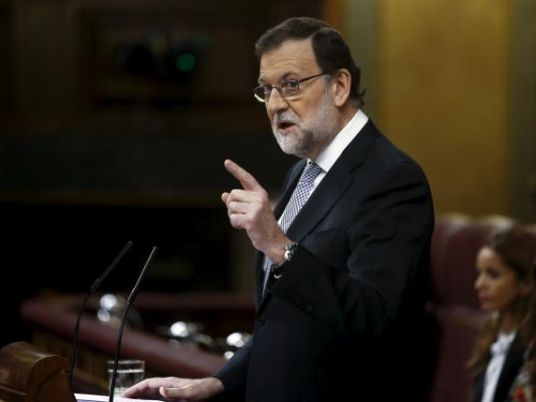 Spain's interim prime minister will move within touching distance of ending an eight-month legislative stalemate on Wednesday when his party considers an offer of support for a new government in exchange for political reforms.
Centrist party Ciudadanos proposed the six-point reform package — aimed at fighting corruption and making the voting system more proportional — to the Conservative People's Party (PP) and its leader Mariano Rajoy last week.
An endorsement by the PP, which won national elections in June but fell short of a majority, would open the way to Ciudadanos ("Citizens") backing Rajoy — currently acting premier — as head of a new government in a parliamentary investiture vote.
The June ballot followed an equally inconclusive one in December, also won by the PP and since when parties across the political spectrum have held a series of so far fruitless negotiations to form a workable coalition government.
Leaders of the PP will meet on Wednesday, when they are widely expected to endorse the Ciudadanos plan, even though it would involve launching a parliamentary investigation into an alleged PP slush fund.
In Madrid, the PP made similar pledges to Ciudadanos to be able to govern locally after regional elections in May 2015.
"What's important now is to form a (national) government," Madrid region leader Cristina Cifuentes told fellow PP campaigners last week.
Breaking the mould
In the December election Ciudadanos and a second newcomer party, leftist Podemos ("We Can"), broke the traditional dominance of Spain's centre-left Socialists and centre-right PP, which have ruled Spain in single-party governments since the end of the Franco dictatorship in 1975.
The formula of a coalition government remains untested after eight months of political deadlock, and Ciudadanos — which finished fourth in June — has ruled out entering one now.
But together it and the PP hold 169 seats, only just short of a majority in the 350-strong lower parliamentary house.
The need for a viable government is also becoming more urgent as Spain must soon prepare a budget for 2017 to keep on track an economic recovery that has thus far weathered the political uncertainty.
Socialist leader Pedro Sanchez has repeatedly said his party would oppose Rajoy as prime minister in any investiture vote. But a shift by Ciudadanos to back Rajoy would pile pressure on the Socialists to cede ground by abstaining.
"If Ciudadanos decides to back Rajoy, it will be really hard for the Socialists to justify a continued veto," said Vincenzo Scarpetta, a political analyst at Open Europe in London.
"They cannot come across as blocking the situation for the sake of blocking it, without proposing a credible alternative."
El Mundo newspaper reported on Tuesday that, rather than vote on the pact, the PP leadership will on Wednesday simply discuss it and give Rajoy free rein to hold further talks with Ciudadanos.
Spanish media say Rajoy is in any case expected to move quickly after Wednesday's meeting to set a date for parliamentary vote on his premiership, possibly in early September.
Ciudadanos' reform measures also include ending legal protection for lawmakers and the immediate removal from office of politicians who become formal suspects in court cases.
The smaller party also seeks a limit of two terms on a given prime minister's mandate.