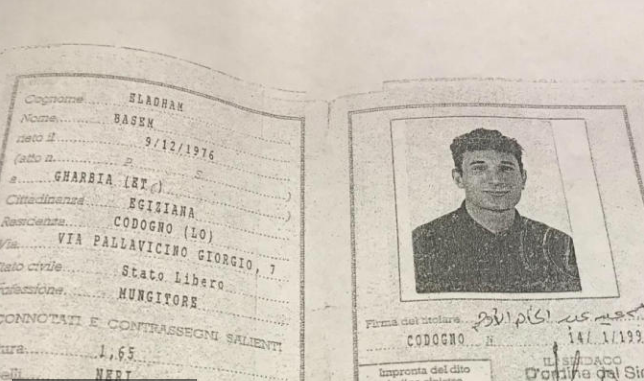 The remains of Eid Abdelkhaliq Adham, an Egyptian whose skeleton was found 15 years after his disappearance in the northern Italian city of Piacenza, will arrive in Egypt at 9 pm on an EgyptAir flight that is scheduled to take off from Milan at 6 pm on Thursday, the Egyptian Manpower Ministry stated.
Manpower Minister Mohamed Saafan received a report from the ministry's Labor Representation Office in the Egyptian consulate in Milan explaining the details of the story of Adham, who was from Kafr al-Zayat city in Gharbiya governorate.
Haytham Saad Eddin, spokesman and media adviser to the Ministry of Manpower, said that Milan's labor adviser, Ezzat Emran, told the story of the deceased Egyptian citizen.
According to Emran, Adham had disappeared in 2004 in the northern Italian city of Piacenza. His body was found in an abandoned building during its demolition in mid-2018.
In 2004, the Labor Representation Office contacted the Italian police, who in turn contacted the brother of Adham, named Samir, and took DNA samples from him to help find Adham.
The skeleton remained in the Pavia morgue from July 2018 until now, during which time the Italian authorities could not reach the cause of his death.
Emran said that the Ministry of Manpower would ensure that Adham's family would receive all their financial entitlements. He added the brother of the deceased bore the costs of transporting the remains from Milan to Cairo.
Emran expressed condolences to the brother of the deceased.
Edited translation from Al-Masry Al-Youm