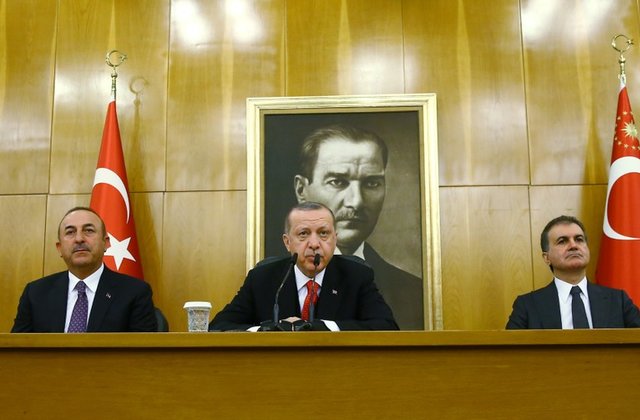 Turkey's President Tayyip Erdogan said he will seek the removal at a summit with the EU on Monday of all obstacles to a stalled membership bid, which the bloc however believes are of Ankara's own making.
Criticism from European Union governments of what many view as Erdogan's growing authoritarianism at home and his intervention in Syria's war has created an uneasy backdrop to the gathering in the Black Sea port of Varna
Some countries had called for an end to long-stalled accession talks and had hesitated to agree to meet him.
But Erdogan said it was time for the EU to "keep its promises" to Turkey, which started formal membership negotiations in 2005 that stalled five years and have now effectively collapsed.
"EU membership continues to be our strategic goal," Erdogan told reporters before departing for the summit. "In today's EU summit, we will convey our expectations about the lifting of the obstacles our country has faced."
Erdogan, who has alarmed the West with a massive purge since a failed coup attempt in July 2016, remains an important ally in the U.S.-led NATO alliance and the fight against Islamic militants, and the destination for many Syrians fleeing war.
Turkey shares a border with Iraq, Syria and with Russia in the Black Sea, and the EU is its biggest foreign investor and trading partner.
CASH ONLY
EU leaders are likely to provide Erdogan with 3 billion euros ($3.7 billion) in fresh cash to extend a 2016 deal on Turkey taking in Syrian refugees.
They will go no further than that, as Brussels considers the EU membership bid a separate process focused on rule of law, press freedoms and economic reforms.
But Erdogan on Monday appeared to conflate the two.
"Our country has fulfilled all responsibilities as part of the 2016 migrant deal, but the EU has not shown the same sincerity in keeping its promises and still does not do so," Erdogan said.
"In terms of counter-terrorism, we will convey that we expect unconditional support and cooperation from the EU."
EU officials say Turkey's post-coup crackdown on civil rights has taken it further from complying with EU membership criteria.
"The differences in views between the EU and Turkey are many," said European Commission President Jean-Claude Juncker, who will represent the bloc along with European Council President Donald Tusk.
"(Varna)…will be a frank and open debate, where we will not hide our differences but will seek to improve our cooperation," Juncker said after a two-day EU summit that condemned what they said were Turkey's illegal actions in a standoff over Mediterranean gas with Greece and Cyprus.
DIALOGUE OR CONDEMNATION?
Turkey's EU membership process is not formally frozen, but talks have not taken place for over a year.
Host Bulgaria, which also shares a border with Turkey holds the EU's rotating presidency, is eager to keep ties as positive as possible.
"The meeting in Varna is likely to be one of the last opportunities to maintain dialogue," Bulgarian Prime Minister Boyko Borissov said.
Meanwhile Chancellor Sebastian Kurz of Austria, the country the most opposed to Turkey's EU membership aspirations, called in an interview in Die Welt newspaper for the EU to condemn Ankara for escalating the seven-year-long war in Syria.