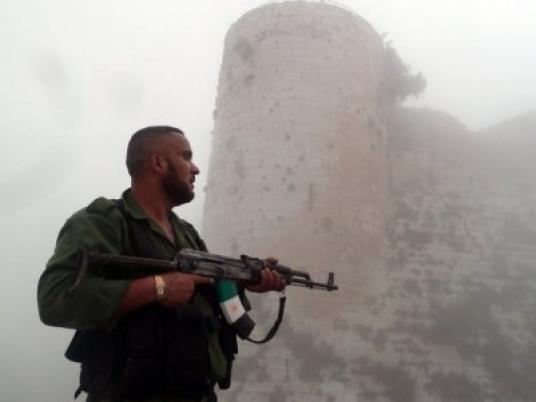 Syrian regime forces and rebels clashed around a besieged army base near the strategic northern town of Maaret al-Numan on Saturday, an AFP correspondent said.
Machine gun fire and explosions rang out from Wadi Deif base on the eastern outskirts of the town, which has since come under heavy army bombardment and air strikes since rebels seized it on 9 October.
The AFP correspondent on Saturday saw 15 tanks deployed around the base to defend it, some camouflaged among olive trees.
The sprawling Wadi Deif base, about 2 kilometers (1.25 miles) outside Maaret al-Numan, is surrounded by watchtowers and mounds of earth.
Rebels said up to 500 soldiers are holed up inside the base. Military helicopters have been seen dropping supplies that often miss their target and instead land behind rebel lines or in no-man's land.
The rebels have besieged Wadi Deif from three sides, including from positions along the highway that runs from Damascus to the key northern city of Aleppo, a stretch of several kilometers which they hold.
Regime air strikes have targeted the rebel-controlled areas along the key highway with 500-kilogram (1000-pound) bombs.
On Saturday morning, a warplane made a low pass dropping a bomb on the city itself that caused no casualties. Another warplane later bombed the city's outskirts after several passes at very low altitude.
Maaret al-Numan's streets were largely deserted on Saturday morning, although a fragile calm allowed some residents to gather supplies and families to briefly visit their abandoned homes.
There were almost no cars on the streets, mostly mopeds ridden by insurgents. A few shopkeepers braved the bombardments to open their businesses, but all activity stopped the minute the warplanes reappeared in the sky.
Tires were set on fire at crossroads for the black smoke to obscure the vision of the regime pilots.
"The storm will come," 55-year-old retired teacher Abu Amir said, sitting in front of his shrapnel-peppered building.
"For the moment, the army doesn't have the means to retake the city. But who knows, if they put more resources into it," a rebel chief said. "If they don't manage that, the regime will take revenge by crushing us with air strikes."
A column of army reinforcements which Damascus sent up from the south was still being held back by rebel forces five kilometers (three miles) south of Maaret al-Numan.
The Syrian Observatory for Human Rights said violent clashes broke out after rebels attacked the military convoy.