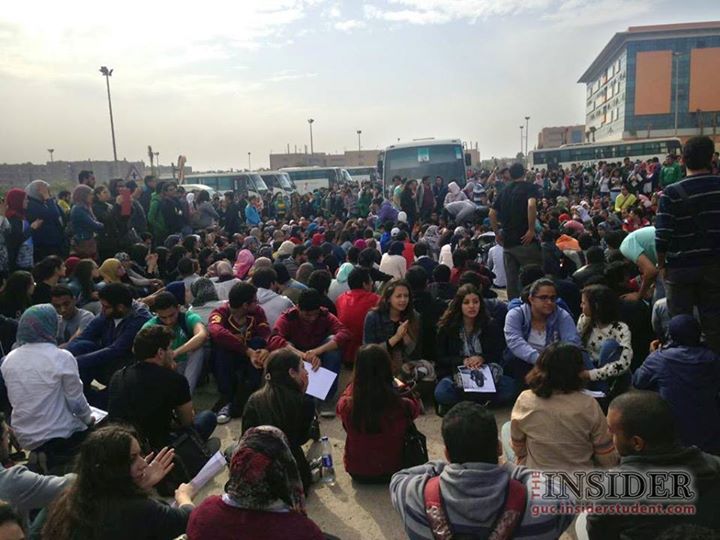 Security services were involved in 70 percent of violence witnessed at universities, while students were responsible for 20 percent of the violence between October 2014 and January 2015, according to the Democracy Index report, which also showed 820 students were arrested, 650 were imprisoned, while 440 students were dismissed, though no official accurate estimates were provided about the security crackdown.
Issued on Wednesday, the report said that 572 protests were staged by students, of those 521 were staged by university students. At the top was Cairo University, then Alexandria then Helwan then Ain Shams, then Zagazig, Menoufia, Mansoura and other governmental universities. Eleven protests were staged by privately-owned universities and other 12 protests were staged by students of higher institutions.
Sixty-nine percent of the demonstrations demanded release and return of detained and dismissed students, 12 Percent of protests were staged against court verdict clearing former President Hosni Mubarak on charges of killing protesters, 18 protests were staged against security crackdown on students, 14 protests were against against the death of classmates caused at the hands of security forces, 17 protests were staged against violence and terrorism, whereas 15 percent of protests were against administrative problems and demands of enhancing educational services.
Ninety-four percent of the protests were peaceful, while 5.5 percent were violent through blocking roads and sieging offices of officials.
Seventy protests were forcibly dispersed, despite being peaceful. Thirty-four clashes erupted between protesting students and security upon the violent dispersal of protests. Eleven bombs were found, while three stun grenades exploded on university campuses, despite the high security measures.
Edited translation from Al-Masry Al-Youm