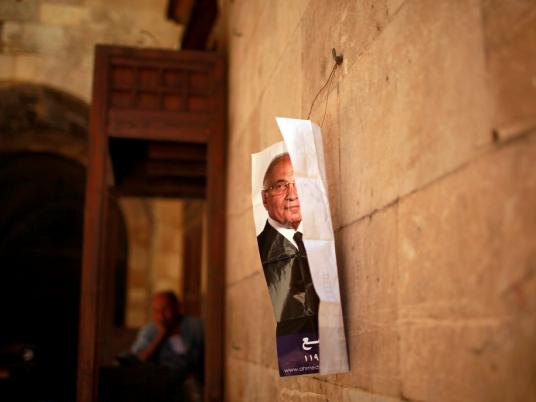 Police are following up on a complaint accusing former presidential candidate Ahmed Shafiq of giving electoral bribes, state-run newspaper Al-Ahram reported Wednesday.
The complaint, filed by Mustafa Ashour, said Shafiq's campaign bribed nearly 2 million citizens, according to Al-Ahram. The newspaper did not report any details about Ashour's political affiliations or inclinations.
The complaint said that the 2 million people are the families of 500,000 people who openly built illegally on agricultural land, alleging that Shafiq promised that they would not be penalized in exchange for their votes.
According to the newspaper, Ashour accused Shafiq of saying at a news conference in Gharbiya that if he were elected president, he would not take any legal action against those who have used agricultural land for buildings, but would legalize their construction upon his victory.
The complaint alleged that Shafiq's statement led to a "hysterical" construction boom, and that the Land Protection Authority at the Agriculture Ministry said a "frightening" amount of agricultural land was lost during the presidential race.
Shafiq was also accused of undermining efforts made by governors, the Agriculture Ministry, the army and police, to curb the encroachment on fertile land.
Shafiq left Egypt a day after the presidential election results were announced in June.
Later, he was referred to criminal court, along with former President Hosni Mubarak's two sons Alaa and Gamal, on charges of squandering state funds.
Shafiq served as commander of the Air Force and minister of civil aviation before he was appointed by Mubarak as his last prime minister during the 25 January revolution.