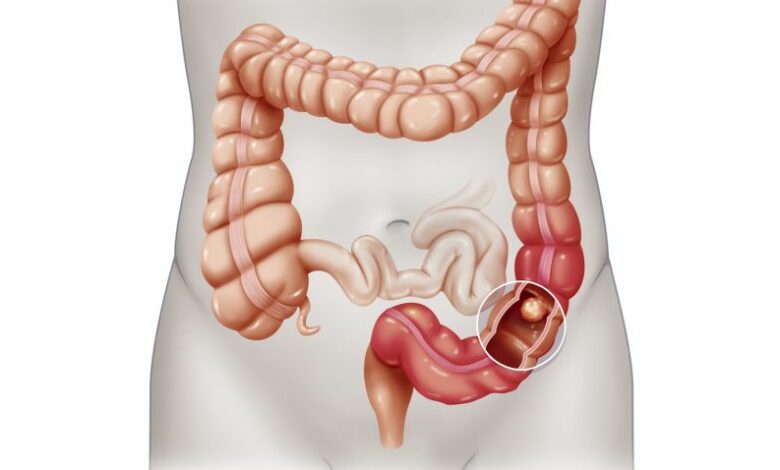 Adults across the United States are being diagnosed with colon and rectal cancers at younger ages, and now 1 in 5 new cases are among those in their early 50s or younger, according to the American Cancer Society's latest colorectal cancer report.
The report says that the proportion of colorectal cancer cases among adults younger than 55 increased from 11% in 1995 to 20% in 2019. There also appears to be an overall shift to more diagnoses of advanced stages of cancer. In 2019, 60% of all new colorectal cases among all ages were advanced.
"Anecdotally, it's not rare for us now to hear about a young person with advanced colorectal cancer," said Dr. William Dahut, chief scientific officer for the American Cancer Society. For example, Broadway actor Quentin Oliver Lee died last year at 34 after being diagnosed with stage IV colon cancer, and in 2020, "Black Panther" star Chadwick Boseman died at 43 of colon cancer.
"It used to be something we never heard or saw this, but it is a high percentage now of colorectal cancers under the age of 55," Dahut said.
Although it's difficult to pinpoint a cause for the rise in colorectal cancers among younger adults, he said, some factors might be related to changes in the environment or people's diets.
"We're not trying to blame anybody for their cancer diagnosis," Dahut said. "But when you see something occurring in a short period of time, it's more likely something external to the patient that's driving that, and it's hard not to at least think – when you have something like colorectal cancer – that something diet-related is not impossible."
The new report also says that more people are surviving colorectal cancer, with the relative survival rate at least five years after diagnosis rising from 50% in the mid-1970s to 65% from 2012 through 2018, partly due to advancements in treatment.
That's good news, said Dr. Paul Oberstein, a medical oncologist at NYU Langone Perlmutter Cancer Center, who was not involved in the new report. The overall trends suggest that colorectal cancer incidence and death rates have been slowly declining.
"If you look at the overall trends, the incidence of colon cancer in this report has decreased from 66 per 100,000 in 1985 to 35 per 100,000 in 2019 – so almost half," Oberstein said.
"Changes in the mortality rate are even more impressive," he said. "In 1970, which was a long time ago, the rate of colorectal cancer death was 29.2 per 100,000 people, and in 2020, it was 12.6 per 100,000. So a dramatic, over 55% decline in deaths per 100,000 people."
Colorectal cancer is the second most common cause of cancer death in the United States, and it is the leading cause of cancer-related deaths in men younger than 50.
Dahut said the best way to reduce your risk of colorectal cancer is to follow screening guidelines and get a stool-based test or a visual exam such as a colonoscopy when it's recommended. Any suspicious polyps can be removed during a visual exam, reducing your risk of cancer.
"At the ACS, we recommend if you're at average risk, you start screening at age 45," Dahut said. "Usually, then your subsequent screening is based on the results of that screening test."
An 'alarming' shift to younger ages
For the new report, researchers at the American Cancer Society analyzed data from the National Cancer Institute and the US Centers for Disease Control and Prevention on cancer screenings, cases and deaths.
The researchers found that from 2011 through 2019, colorectal cancer rates increased 1.9% each year in people younger than 55. And while overall colorectal cancer death rates fell 57% between 1970 and 2020, among people younger than 50, death rates continued to climb 1% annually since 2004.
"We know rates are increasing in young people, but it's alarming to see how rapidly the whole patient population is shifting younger, despite shrinking numbers in the overall population," Rebecca Siegel, senior scientific director of surveillance research at the American Cancer Society and lead author of the report, said in a news release. "The trend toward more advanced disease in people of all ages is also surprising and should motivate everyone 45 and older to get screened."
Some regions of the United States appeared to have higher rates of colorectal cancers and deaths than others. These rates were lowest in the West and highest in Appalachia and parts of the South and the Midwest, the data showed. The incidence of colorectal cancer ranged from 27 cases per 100,000 people in Utah to 46.5 per 100,000 in Mississippi. Colorectal cancer death rates ranged from about 10 per 100,000 people in Connecticut to 17.6 per 100,000 in Mississippi.
There were some significant racial disparities, as well. The researchers found that colorectal cancer cases and deaths were highest in the American Indian/Alaska Native and Black communities. Among men specifically, the data showed that colorectal cancer death rates were 46% higher in American Indian/Alaska Native men and 44% higher in Black men compared with White men.
The report also says that more left-sided tumors have been diagnosed, meaning an increasing percentage of tumors are happening closer to the rectum. The proportion of colorectal cancers in that location has steadily climbed from 27% in 1995 to 31% in 2019.
"Historically, we've been worried more about the tumors on what we call the right side," said NYU Langone's Oberstein.
"But the incidence increasing, especially among young people, seems to be happening not only in those worse tumors but the ones that we think are not as bad," he said, referring to left-sided tumors. "It's raising questions about whether something is changing about the risks and the future people who are going to get colon cancer."
Looking forward, the researchers estimate that there will be 153,020 colorectal cancer cases diagnosed in the US this year and an estimated 52,550 colorectal cancer deaths, with 3,750 of them – or 7% – among people younger than 50.
"These highly concerning data illustrate the urgent need to invest in targeted cancer research studies dedicated to understanding and preventing early-onset colorectal cancer," Dr. Karen Knudsen, CEO of the American Cancer Society, said in the news release. "The shift to diagnosis of more advanced disease also underscores the importance of screening and early detection, which saves lives."
Screening recommended at 45 and older
The report's findings, including the rise in colorectal cancer in younger adults, are "troubling," Dr. Joel Gabre, an expert in gastrointestinal cancers at Columbia University Irving Medical Center, said in an email.
"It reflects other recent published findings demonstrating a rising incidence of colorectal cancer in young people. Most concerning to me, however, is a lack of clear cause and patients being diagnosed late. I think this is an area where more funding for research is needed to understand this really concerning rise," wrote Gabre, who was not involved in the report.
Gabre says he knows what it's like to look into his young patients' eyes and tell them they have colorectal cancer, and "it's devastating."
"They have young families and so much of their life ahead of them. That's why I encourage my patients who are age 45 years and older to get screened," Gabre said. "I also encourage people to let their doctor know if they have a family history of colon cancer. There is genetic testing we can do to identify some at-risk patients early before they develop cancer."
The findings highlight the importance of colorectal cancer screening, Dr. Robin Mendelsohn, gastroenterologist and co-director of the Center for Young Onset Colorectal and Gastrointestinal Cancers at Memorial Sloan Kettering Cancer Center, said in an email.
"The age to start screening was recently decreased to 45, which will help in an effort to screen more people, but we still need to understand more why we are seeing this increase which is something we are actively looking into," wrote Mendelsohn, was not involved in the new report.
Mendelsohn says she has seen an increase in advanced colorectal cancers and diagnoses among her younger patients, and she says to watch for symptoms such as rectal bleeding, abdominal pain and changes in bowel habits.
"Until we understand more, it is important that patients and providers recognize these symptoms so they can be evaluated promptly," she said. "And, if you are at an age to get screened, please get screened."