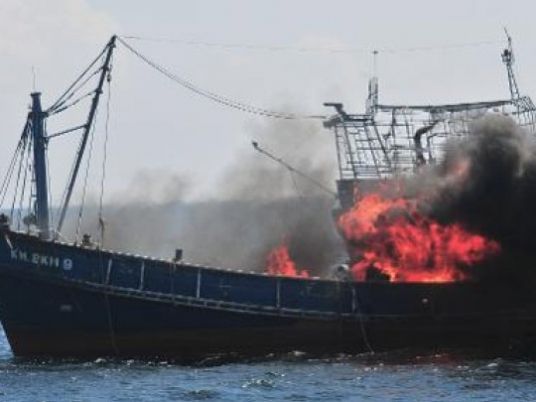 Indonesia has sunk 41 foreign boats across the archipelago, reports said Thursday, as part of an ongoing push to stop illegal fishing in its waters.
Authorities sank the vessels in public displays at several sites Wednesday, local media reported. The boats included one from China and others from Vietnam, Thailand and the Philippines.
Some of the boats were blown up with dynamite and pictures showed the vessels engulfed in flames as they went down.
Indonesia has defended its policy of seizing and destroying illegal fishing boats, a hardline approach that risks attracting regional anger.
"Without the continued fight against illegal fishing, we won't be able to improve the welfare of our fishermen," Fisheries Minister Susi Pudjiastuti told The Jakarta Post newspaper.
The Chinese vessel sunk was reportedly a large ship detained in 2009 for fishing in Indonesia's exclusive economic zone in the South China Sea.
President Joko Widodo has taken a hardline approach to illegal fishing since taking office in October, vowing to stamp out a practice he says costs Southeast Asia's biggest economy billions of dollars in lost revenues every year.
Indonesia had already destroyed boats from Malaysia, Thailand, Vietnam, Papua New Guinea and the Philippines in highly publicised displays.
Authorities also say foreigners illegally fishing in Indonesia are partly responsible for massive damage to the environment due to the widespread use of explosives and cyanide.
Widodo hopes that increased revenues from fishing can help boost economic growth, which has sunk to a five-year low.