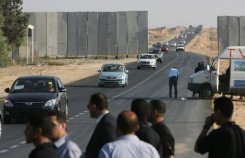 The Egyptian Republican Guard would be responsible for securing Emir of Qatar Hamad bin Khalifa al-Thani, his wife, and their accompanying delegation, which includes three ministers and 61 public figures, to the Gaza Strip through the Rafah crossing, a senior security source said Monday.
Sinai activist Mosaad Abu Fagr wrote earlier on Facebook that the Qatari Emiri Guard would be responsible for security on both the Egyptian and the Palestinian sides.
The Turkish Anadolu news agency also said that security affiliated with the Egyptian presidency on Sunday took over the security of the airport and the crossing, and that the local authorities, the media and the tribal elders were notified that the presidency is responsible for the arrangements of the visit.
Sheikh Thani is arriving Tuesday morning to Arish Airport, which underwent a complete renovation in preparation for his visit. Twelve buses carrying equipment have already arrived at the crossing, Anadolu said, and a Qatari plane landed at the airport on Sunday.
Airport security refused to divulge the identity of the passengers or the type of equipment, however.
The Emir and his wife are scheduled to board an Egyptian helicopter to the crossing, then take a motorcade to spend six hours in Gaza before they return to Doha.
On the Palestinian side, Hamas ordered the municipalities to clean the streets and place banners welcoming the Emir and his wife.
Sheikh Thani and Hamas Prime Minister Ismail Haniyeh will hold a press conference, then go to the city of Khan Younis in the south to inaugurate Hamad City, which cost around US$62 million, part of US$254 million Doha allocated to the reconstruction of the enclave and the Hamad Hospital for Artificial Limbs for Children.
The Emir is the first Arab head of state to visit the Gaza Strip since 2007.
Israel called the visit "strange," and preempted it with raids on Gaza that resulted in the death of two Palestinians and the wounding of four others.
Edited translation from Al-Masry Al-Youm