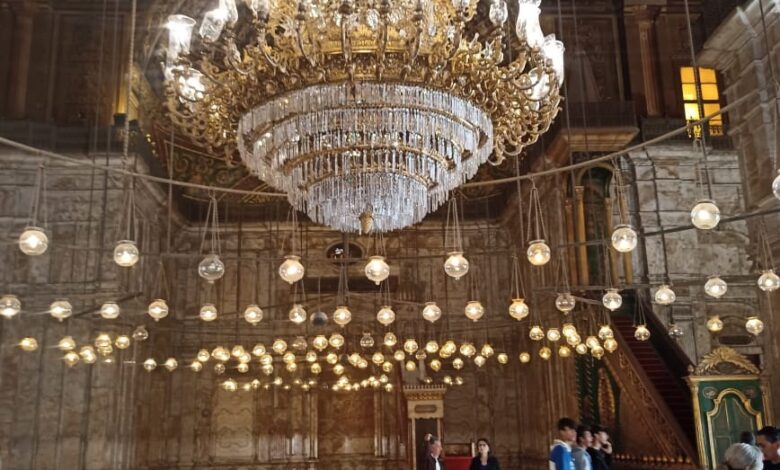 At the hands of a team of restorers from the Supreme Council of Antiquities, the maintenance and restoration work has been completed for the main chandelier of the Muhammad Ali Mosque in the Citadel of Saladin in Cairo.
Mustafa Waziry, Secretary General of the Supreme Council of Antiquities, stated that the ongoing restoration work in the mosque comes within the restoration and maintenance work witnessed by the Citadel of Saladin in general.
Head of the Islamic, Coptic and Jewish antiquities sector at the Supreme Council of Antiquities, Osama Talaat, explained that the restoration work of the chandelier lasted about three years, and included the reassembly of parts of the chandelier.
The mechanical cleaning work and chemical treatments for all parts of it as well as maintenance of electricity works.
Who is the founder of Muhammad Ali Mosque?
Muhammad Ali Mosque was built during the reign of Muhammad Ali Pasha between 1830 AD and 1848 AD. It was known as the alabaster mosque, because all the walls of the mosque are covered with alabaster brought from the quarries of Beni Suef.
The decorations continued until the era of Abbas Helmy I.
The mosque consists of the prayer house and the front of the prayer house. The house of prayer is characterized by being covered with a central dome from which the restored main chandelier hangs, weighing about two tons and five meters in diameter.
There are also smaller domes around the central dome in the corners and half-domes around the central dome. The tomb of Muhammad Ali is located in the
In front of the house of prayer is an area, in the middle of which is the place for Wudu', and it is surrounded by four porticoes.
The mosque has two minarets, each one approximately 82 meters high.