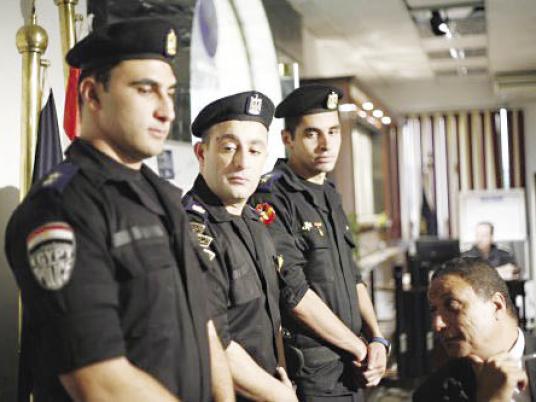 A few minutes before "Al-Maslaha" (The Goods) ends, Hamza, the idealistic narcotics officer, unexpectedly turns around and shoots the Bedouin Suleiman in cold blood after the drug dealer's surrender, avenging his young brother's death.
Perhaps this is the most intriguing scene in "Al-Maslaha," currently showing in movie theaters across the country. Throughout the film, the filmmakers try hard to portray a clash between the "good" policemen and the "criminal" Bedouins. But the "good cop" eventually cannot prevent himself from killing an unarmed man, although even then he is cast as a bad apple — his colleagues report his violation and he is put on trial.
Written for the screen by Wael Abd-Allah and directed by Sandra Nashaat, two well-known figures in Egyptian commercial cinema, the thriller has earned more than LE20 million within a few weeks despite political unrest surrounding the presidential elections and Hosni Mubarak's trial.
But despite its commercial success, the film is a stark example of misrepresentation, especially of marginalized communities. For the most part, "Al-Maslaha" offers no more than naïve generalizations and stereotypes about Sinai Bedouins as drug dealers and ruthless killers, while the police forces are being represented as righteous citizens. Counter-narratives of how police collectively punish the Bedouins are ignored.
Screening a harsh reality
"Al-Maslaha" is based on a true story and was shot before the revolution began when mass protests against police brutality broke out in January and February last year. The film tells the story of police major Hamza (Ahmed al-Sakka), who lost his younger brother, also a police officer, at the hands of Suleiman — the brother of the wealthy and influential Bedouin drug dealer Saleem (Ahmed Ezz). Suleiman drives his luxurious car with his Bedouin girlfriend, Shadia (Zeina), before coming to a checkpoint. Afraid the police would arrest him and seize the marijuana in his possession, he fires gunshots in the air and accidently hits Hamza's brother with his car.
After a court convicts Suleiman of murder and sentences him to the death penalty, Saleem manages to free his younger brother by attacking the police car transporting him to prison, and hides him in a remote underground shelter in the peninsula.
Throughout the rest of the film, Hamza, geared with top-of-the-line communications equipment, tries to track down Suleiman to avenge his brother's death. He is also trying to capture Saleem as he brings the goods into the country — 20 tons of drugs smuggled in from Lebanon.
Good cop, bad Bedouin
Hamza and Saleem's conflict is portrayed in a rather simplistic good-versus-evil lens.
The police officer is shown as a good man, devoted to his job and country to the extent that he misses his younger brother's wedding for an operation in Sinai. He lives in his upper-middle class flat in Cairo with his devoted veiled wife (Hanan Turk), and also looks after his widowed mother. His late father is a policeman, emphasizing — if only unintentionally — how positions in the military, police force, judiciary and academia continue to be passed on from father to son.
On the other hand, Saleem, the Bedouin drug dealer, lives in a luxurious villa in Sinai. He is bad-tempered, lustful for women and aggressive to them. He is repeatedly shown mistreating his old housekeeper. One scene shows Abu Fayyad (Salah Abdallah), Saleem's right-hand man, brutally punishing a Bedouin informant by enclosing the man in a cage with a hungry lion.
Bedouins are shown living in relative poverty but are rarely given a voice in the movie. They try to beat up Hamza when he shows up in their village asking about Shadia and tells them he is a police officer. But Saleem steps in to save him.
No one seems to stand up for Saleem or object to his drug trade, at least not on any ethical grounds. An elderly tribe leader is the only one who refuses to attend Saleem's wedding, blaming him for ruining the Bedouins' relations with the state through his drug trafficking.
But relations between the Bedouins and the police have been deteriorating significantly over the past decade due to arbitrary detention and torture of Bedouins after the Sinai terrorist attacks of 2004, 2005 and 2006, rather than the ongoing drug trade. The police crackdown on the Bedouins sparked outrage among activists and intellectuals in Cairo at the time.
In this context, "Al-Maslaha" comes as one more manifestation of the police narrative in relation to the conditions in Sinai, and the images promoted in the film are exhausted. For decades now, Sinai has been dealt with as a periphery, often ignored by Egypt's centralized government except when it comes to tourism revenue. And since the deposal of Mubarak last year, the peninsula has been highlighted in local debates as the best example of chaos and lawlessness. Headlines have proliferated about kidnapped tourists, attacked police checkpoints, a massive weapon trade and blown-up gas pipelines. Eventually, it is the Bedouins who take all the blame.
Last May, Abdel Moneim Said, a pro-Mubarak political expert, criticized presidential hopefuls who promised to develop Sinai and empower its people. He wrote in his daily column in the state's flagship newspaper, Al-Ahram, that what mattered was not developing the peninsula, but rather countering the lawlessness and threat of "extremists" there.
"Sinai is being colonized again," he wrote. By whom, may we ask?