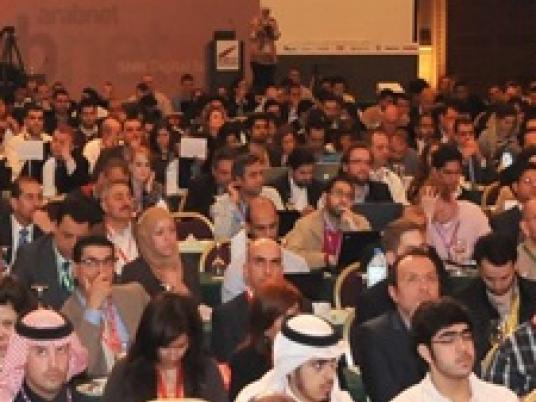 "It's the revolution," answers Heba Honsi, a young activist who has been working for ten years in charity, when asked what motivated her to launch a website to enable people to donate to those in need.
After the revolution, Honsi noticed that people were donating bigger amounts of money to charity.
"I also discovered that some people don't know where they should give their donations. After the revolution Egyptian expats have been active in giving donations. So I thought about launching a website to be a liaison between those who donate and those who deserve the money," says the young philanthropist.
Hosni is among the dozens of Egyptians and Arabs who brought their electronic projects to the "ArabNet Cairo 2011" conference last week, which gathered together young entrepreneurs and digital professionals.
These professionals believe that the rising number of internet users in Egypt is an important factor in their projects' success. The total number of internet users in Egypt has increased from 14.9 million at the end of the second quarter of 2009 to 19.7 million at the same juncture in 2010, according to the Egyptian Communications and Information Technology Ministry. That's a growth rate of an astounding 32.3 percent.
Abbas Adel, a young engineer, is another example of how the revolution has inspired young professionals to launch projects to help communities.
Adel has already achieved success with his online initiative, "Zabatak" (I Caught You). The website is a citizen journalism service dealing with crime in Egypt. It has an interactive map on which seven categories of crimes and offenses are listed, including looting, violence, theft, corruption and illegal construction.
After the revolution and the security vacuum created by the absence of police, Adel says he and his friends figured they could help their community by focusing on this gap. "We've reached the conclusion that what worries people most is the deteriorating security situation. So we launched a website to gather all the information about crime in Egypt."
The website, according to Adel, has two aims; the first is to inform people about areas with high crime and the second is to give government entities, such as the police, more information about crime in the country.
Zabatak helped in finding six stolen cars recently, says Adel. This has urged government authorities, such as the Local Development Ministry, to engage with Adel and thank him for the service. The authorities claim to have obtained "valuable information from people who reported on the website that they paid bribes to government employees," said Adel.
Hanan Suleiman has thought of a better way to inform the people about what's going on in Egypt outside core areas of coverage such as Cairo. She tells Al-Masry Al-Youm that she has been inspired by the American experience in localized media and launched an electronic news portal called Mandara Online, which covers events in Upper Egypt. During the 18-day uprising, "People saw how marginalized places could act and support the revolution. Look at Suez and the continuing activism there. I thought that we need to highlight what's going on in these communities," says Suleiman.
"The idea is not to cover conventional news. It's to train and prepare reporters from the area and give them the chance to cover the issues that really affect them," Suleiman continues.
Among the issues that Mandara is interested in covering are vendetta killings and violence against women.
Abdel Rahman Wahba, a young engineer, has also started a news project, in which he provides audio transcriptions of newspaper content. "Iqraali" (Read for Me) is a platform whereby a program is used to "transform the written text into an audio text, read out by a person and not a machine," explains Wahba. The targets for this platform are car drivers, people with difficulty reading and illiterate people who can access articles through their relatives or friends with access to the internet.
These pioneers and others have found in web technology countless ways to engage with communities in need.