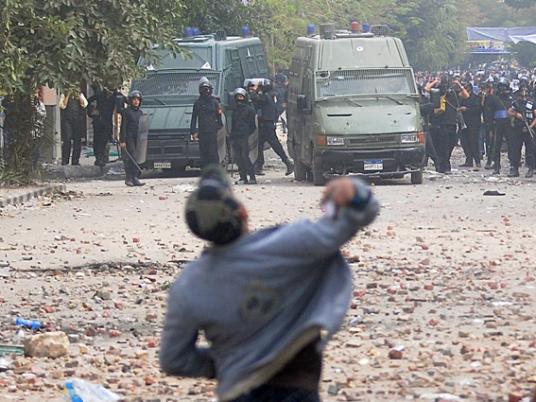 On Monday morning 37 revolutionary groups demanded the resignation of Essam Sharaf's government and the creation of a timeline for transferring power from the Supreme Council of the Armed Forces (SCAF) to an elected civilian government no later than May 2012.
The demands were made in light of the ongoing violence in Tahrir Square that started Saturday and has so far left at least 22 dead.
The groups, including April 6 Youth Movement, the 25 January Revolution Youth Coalition, and Salafi groups, condemned the ongoing use of excessive force against protesters in Tahrir Square and called for the formation of an interim national salvation government to replace Sharaf's military-appointed cabinet.
"We confirm our readiness to face all the forces that aim to abort the revolution, reproduce the old regime, or drag the country into chaos and turn the revolution into a military coup," said a statement issued by the 37 groups.
With growing mistrust toward the ruling military council due to the ongoing violence, the groups demand the implementation of a timeline that ensures its swift departure from political power.
They suggested the timeline include the start of parliamentary elections next week as scheduled, followed by the formation of a national government by the newly elected parliament, then presidential elections in April 2012 to ensure that the ruling military council passes both legislative and executive powers to elected civilians by next May.
According to the SCAF's current timetable, the next cabinet will be appointed by the SCAF and a presidential election will not be held before 2013.
"The military council just showed its true colors, now there is blood between us and those ruling the country just like Mubarak, now it became obvious to everyone that the military council doesn't differ from Mubarak the least bit," said Islam Lotfy, a member of the 25 January Revolution Youth Coalition, who was also representing the progressive Islamist Egyptian Current Party.
Following Friday's protest, dominated by Islamists who oppose the SCAF's proposed set of supra-constitutional principles but also attended by pro-democracy forces, a group of people who were injured during the revolution and others started a sit-in in Tahrir Square. The sit-in was dispersed violently by police Saturday morning, prompting thousands to go to the square in support of the protesters under attack.
The clashes between protesters and police, now in their third day, erupted into extreme violence, including the use of live ammunition against protesters, not seen since 28 January, the day that anti-regime protesters defeated Hosni Mubarak's security forces. The Ministry of Health has announced that at least 22 people have died and approximately 1000 injured in the clashes so far.