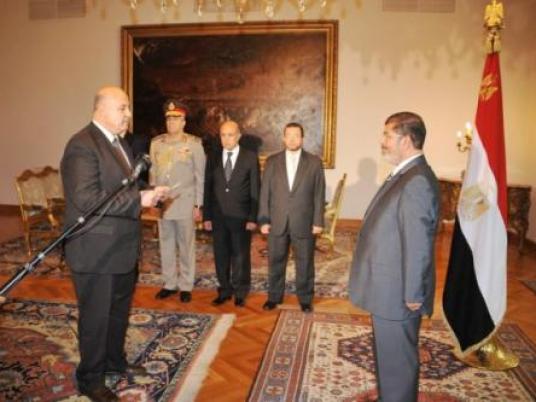 A number of revolutionary and political groups have disclosed details of their meeting with Vice President Mahmoud Mekky on Monday.
Attending the meeting were representatives from the Popular Current, the Constitution Party, the Socialist Popular Alliance Party, the Egyptian Social Democratic Party, the Free Egyptians Party and the Strong Egypt Party, among others.
The attendees said Mekky admitted that the presidency had been slow in responding to the violence that erupted between the president's supporters and opponents during protests in Tahrir Square on 12 October, attributing the lack of response to the presidency's preoccupation with the Public Prosecution issue.
A statement by the Popular Current, an alliance of secular political groups, said Tuesday that Mekky assured participants that the next Parliament will work on legalizing the status of all associations, including the Muslim Brotherhood. Mekky added that all institutions, including the Brotherhood and the Armed Forces, will be subject to scrutiny by regulatory bodies.
Mekky denied that the presidency had formulated a law to protect the gains of the 25 January revolution, noting that the idea for the law is still hypothetical.
He said a new law regulating the People's Assembly elections may not be approved before settling on an electoral system in the new constitution, vowing that all political parties will be able to discuss the new electoral law.
The vice president also pledged that no more military trials would be held for civilians.
Participants condemned the letter of introduction sent by the Egyptian presidency to Israel for the nomination of a new Egyptian ambassador to Tel Aviv, which critics deemed too friendly. They stressed the need for faster action to resolve outstanding issues with the "Zionist entity, restoring full Egyptian control over Sinai, and canceling the natural gas export deal with Israel."