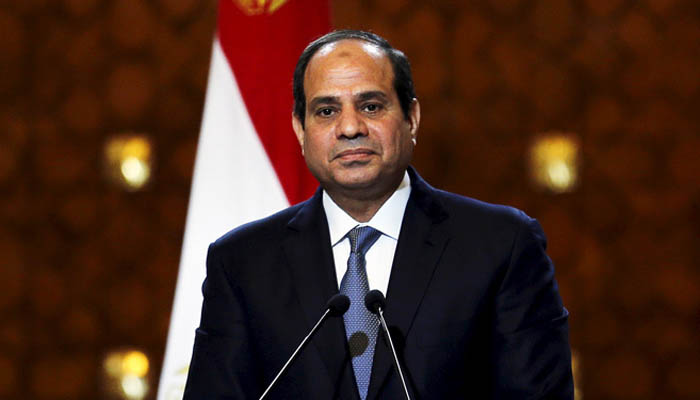 Egypt President Abdel Fattah Al-Sisi addressed the Egyptians on Saturday to commemorate the fifth anniversary of the 30 July revolution. In his speech, Sisi highlighted the main challenges that faced Egypt since he came to power in 2014, after a revolution against Muslim Brotherhood's Mohamed Morsi removed him from power.
"The past years created three challenges enough to destroy a country: lack of security and political instability, terrorism, and the failing economy. But Egyptians should be proud of what we've achieved in facing these threats," Sisi said.
Sisi continued that the economic situation in 2014 required immediate intervention, "The economic situation was very dangerous as Egypt's foreign reserves were only $15 billion, and its economic growth was 2 percent, which is less than the population growth rate, meaning that the Egyptian economy was shrinking."
However, Sisi assured Egyptians the danger is now gone, "the current results show we are on the right track. The reserves rose from $15 billion to more than $44 billion, recording the highest amount in Egyptian history. Growth rates also grew from 2 percent to 5.4 percent and we aim to reach 7 percent during the next years."
As for political instability and terrorism, Sisi addressed both issues saying, "We managed to stabilize the country and rebuild its institutions such as the constitution, as well as its executive, legislative  and judicial bodies, to create a strong political entity."
"Our nation also succeeded in rooting out terrorism due to the courage of our sons in the army and police who have the infinite support of the people."
Finally, Sisi concluded that 30 June will always be a historical day, "In this day, Egyptians of all ages revolted to announce that there is no place for a traitor between them, and that they have absolute loyalty to their country through words and actions."
"In this glorious day, Egyptians stood against the wave of extremism that swept the region, until some thought it won and dominated, but the Egyptian people had the last word. I salute you for proving that nothing will make us weaker," Sisi said.