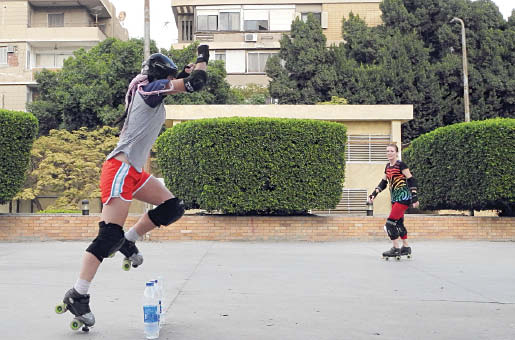 Four young women come skating around a colorful concrete outdoor soccer court at the Talaae Sporting Club in Cairo, shoving each other as they circle around a makeshift rink they've fashioned together using small plastic cones.
Meet the CaiRollers, Egypt's first Roller Derby team.
One team member uses her hips to knock another off balance. She crashes, her arms flailing and her body flipping over several times before resting face-down on the steaming hot concrete. She lies motionless for a moment, and her teammates skate to her side, bringing her water.
She drinks, is helped up by her hip-checking teammate and carries on skating. There is still an hour of practice to go.
This is Roller Derby. It's for women, it's full contact, and there is no time for tears.
"It is so much fun, and there is this sisterhood that happens with Roller Derby. You knock each other down and then you help each other up," says Angie Turk, one of two American women who brought the sport to Cairo. "You push each other through a lot of fear and a lot of obstacles that you would not normally think you would ever do, but you keep going and you are there to support each other through it."
The other is Shaneikah Bickham, the girl who used her hips to topple her teammate earlier.
"It's very relaxing. That's why I do it. The activity itself is very relaxing," says Bickham.
Except you hit people. Hard. While on roller skates.
That is not to say Roller Derby today is only a bunch of elbows, trips and eye gouges. The sport is governed by the Women's Flat Track Derby Association and certain clear-cut rules attempt to keep bouts both physical and safe(r). No elbows, no pushing and no tripping other skaters. You can still use your hips and shoulders though, sometimes to great effect.
The sport consists of two teams of five skaters who skate around a flat, demarcated track. Each team has three blockers, a pivot — generally the lead blocker — and a designated player known as the "jammer." The "jammer" has a star on her helmet and is the only player who can score points for her team, by legally passing the other team's players.
That is provided she does not execute a special maneuver called "passing the star," in which she hands off the starred helmet to the pivot.
Roller Derby today is a mix of brains and brawn. Bouts can have strategic formations as effective as knocking another player off her skates.
They may "wall up" by having two blockers take as much room on the track as they can. They may use a "diamond formation" to trap the opposing team's jammer and prevent her from scoring. They may even "whip it," using physics and a blocker's momentum to give their team's jammer some extra speed.
Roller Derby was not always like this. According to the WFTDA, the concept of the sport dates back to 1920s America, when it was played by both men and women. It was eventually played on banked tracks and scripted for television in the 1940s, but died out in the 1970s. Today's women-only incarnation of the sport came about in the early 2000s and is now among the fastest-growing women's sports in the world.
Part of this may have to do with the do-it-yourself culture that creates a strong bond among the participants. Each skater also dons an alter ego on the track. Angie's is Indie Hanna, a play on her home state, and Shaniekah is Naughty Venn Close.
To Angie, and many other skaters, it is much more than just a sport.
"It is a community. It doesn't matter where I go in the world, if there is a Roller Derby league and I needed somewhere to stay, a couch to crash on or I wanted to borrow some skates to skate with them, they would welcome me. And that's what we will do here in Cairo," says Angie.
"It's a space for women. It's very empowering," says Nora Elmarzouky, who has yet to harness her alter ego in a name. "Once I'm on skates, I feel stronger."
The CaiRollers are the first team in Egypt, but they are not the only team in the Arab world. Dubai has Dubai Roller Derby and is restarting a fizzled venture in Abu Dhabi. One of the founders, Dani Connell (aka Busty Malone), says most team members are expats.
"We do have two Emirati girls that can't wait to get involved. One thing I want Roller Derby in the UAE to achieve is inclusiveness. We are open to everyone. Dubai is quite a diverse place, and hopefully Roller Derby can help to break down some of those barriers," she says.
Here in Cairo, the eight-strong CaiRollers are a bit more heterogeneous, and are already beginning to break down barriers.
"I didn't have my skates or anything. So I started to attend practice, see what they were doing and tried to be helpful. Sometimes some skaters didn't show up, so I borrowed their gear and stuff and I started to get into it," says Katreen Gaddis (aka Wild KAT). Gaddis is an Egyptian and is one of five Egyptian nationals on the team.
To join CaiRollers is a relatively expensive undertaking. Not only is the gear incredibly expensive — US$300 for a good set in a country with a per capita income of only $2,000 — it is also very difficult to come by. For now, the team has had to resort to asking friends or visitors to bring gear with them if they have extra room in their luggage.
It's not just a matter of the large financial barrier or the inaccessibility of gear that creates difficulties for the CaiRollers. It is also space. Trainings have been held at three different venues in as many weeks.
One venue forced them to pay for an extra security guard and relegated the team to a back corner away from men because they wanted to minimize any chance of sexual harassment. Another's management was completely indifferent to the team's presence, but needed them to clear the space promptly once their time was up. They were the only ones there.
At a recent training session at the Girls' College in Heliopolis, there was some hope.
"My God. Watch out! There are stairs over there!" screams Tahani Hathout. This is the first time Hathout, the recreational area's manager and a professor at the college, has seen a Roller Derby practice. In the same breath, she says, "We have patinage [the French word for skating] here and it is culturally accepted, but I have never seen this sport. I swam and played basketball as a kid."
When asked if she would let her daughter play she replied, "Of course!"
Later, toward the end of the practice, she brings Salam Hafzy, a dentist, whose young daughters are learning how to swim at the college's pool.
"Please come back," Hathout insists.
"Can my daughters join this team?" Hafzy asks.
Not until they are 18, the CaiRollers answer.
"Can they come to your practices and help out. One is 17. She can help for six months before she joins," Hafzy says.
Hafzy insists that she wants her daughters to grow up tough; she has already started enrolling them in karate classes. No one has yet told her about the cost of the gear. Either way, she will be bringing her girls to the next training at the Girls' College to at least marvel at this new sport in Cairo.
This piece was originally published in Egypt Independent's weekly print edition.