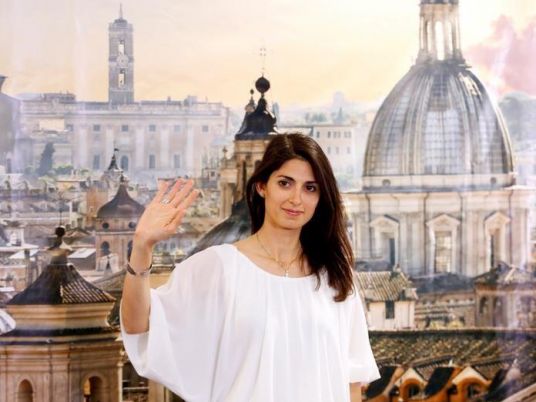 Rome's new mayor, Virginia Raggi, has decided to withdraw the city's backing for a bid to host the 2024 Olympic Games in the Italian capital, a city hall official said on Wednesday.
The decision, to be announced later on Wednesday, effectively sinks Rome's bid and narrows the field of Olympics bidders to Paris, Los Angeles and Budapest.
Raggi's anti-establishment 5-Star Movement, which won control of Rome in June, had always expressed doubts about staging the sporting spectacular, saying the heavily indebted city could ill afford to finance the investment needed.
But the Rome 2024 bid team, backed by Prime Minister Matteo Renzi, had held out hopes that she could change her mind.
Italian Olympic Committee president Giovanni Malago has said the bid would fail without the city council's backing.
During the mayoral election campaign, Raggi said the city had other priorities but did not definitively back away from the bid. In one election debate, she said she would call a popular referendum on whether to continue with the bid.
Revelations of systematic corruption involving Roman politicians, bureaucrats and businessmen in late 2014 prompted doubts about whether the city could handle work associated with the Olympics in a transparent way.
Rome had also bid to host the 2020 Games, but then-prime minister Mario Monti withdrew due to concerns over Italy's finances.
Raggi, who has been beset by resignations, infighting and scandals in her first few months as mayor, is due to give a news conference about the Olympics bid at 1330 GMT.
She is expected to explain the decision to withdraw from the bid process, citing major cost overruns that have left past host cities in debt, the city hall official said.
The International Olympic Committee is due to select the host city in September 2017.