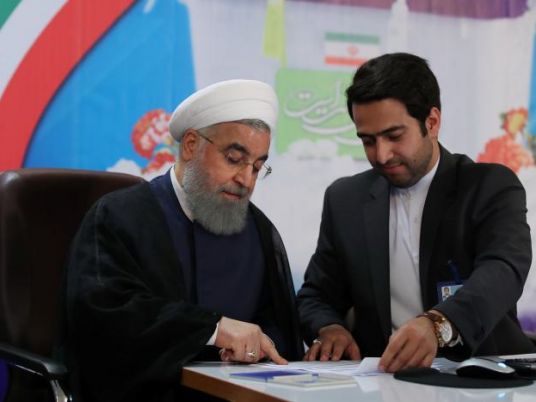 Iran welcomes cooperation at all levels to bring stability to the Middle East, President Hassan Rouhani told his French counterpart on Monday, hours after US President Donald Trump lambasted Tehran again as he tours the region.
In a telephone call, Rouhani told France's new president Emmanuel Macron he was hopeful that Europe would not copy Trump's stance against the Islamic Republic.
Visiting Iran's arch-foe Saudi Arabia on Sunday, Trump singled out Iran as a key source of funding and support for militant groups in the Middle East, sending a tough message to Tehran the day after Rouhani won a second presidential term.
He said on Monday in Jerusalem that shared concern about Iran was driving Israel and many Arab states closer, calling Tehran a real threat in the region.
"The Islamic Republic is ready for cooperation in all levels with other countries, including France, to fight against terrorism and to resolve the Syrian crisis," Rouhani was quoted saying to Macron by Iran's state news agency IRNA.
The French leader had called to congratulate him on being re-elected in Friday's presidential vote.
"We should bring peace and stability back to the region. We hope Europe does not fall into the trap of countries that promote their wrong interpretations of the region," Rouhani was also quoted as saying.
Paris, which is at odds with Iran over the crisis in Syria, took one of the hardest lines against Tehran during negotiations between Iran and major powers in 2015, but has been quick to restore trade ties.
French carmakers PSA (PEUP.PA) and Renault (RENA.PA) are taking advantage of their lack of US operations by piling into a resurgent Iranian market that is still off-limits to rivals fearful that Trump's administration will impose sanctions.
France has said it backs Trump's call to strengthen the monitoring of the deal, but that it is committed to implementing it, including the lifting of sanctions.
Asked earlier on Monday whether Paris agreed with Trump's call to isolate Iran, the French foreign ministry said it would "work toward developing political dialogue that should be part of a constructive approach with regard solving regional crises".
Rouhani said at a news conference on Monday that stability could not be achieved in the Middle East without Tehran's help.
Reporting by John Irish in Paris and Bozorgmehr Sharafedin in London; Editing by Catherine Evans