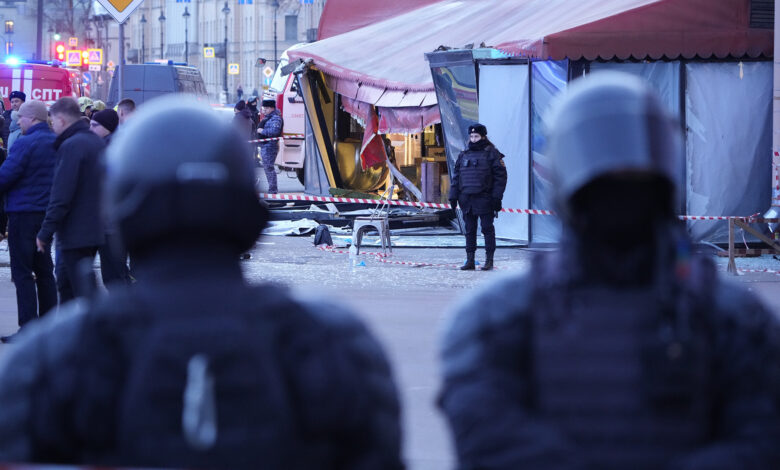 Russia claims the explosion that killed military journalist Vladlen Tatarsky on Sunday involved agents of the Ukrainian special services and associates of the jailed Russian opposition leader Alexey Navalny.
"The terrorist act committed on April 2 in St. Petersburg against the well-known journalist Vladlen Tatarsky was planned by the special services of Ukraine with the involvement of agents from among persons collaborating with the so-called Anti-Corruption Fund of Navalny, of which the detained Daria Trepova is an active supporter," Russia's National Anti Terrorism Committee (NAC) said Monday in a statement carried by state media outlet RIA Novosti.
Earlier Monday, the Russian interior ministry announced Trepova's arrest in connection with the explosion, which injured at least 32 people.
Ukraine has said little about the attack, beyond blaming in-fighting in Russia. Mykhailo Podolyak, an adviser to the Ukrainian President's office, wrote on Twitter on Sunday evening: "Spiders are eating each other in a jar. Question of when domestic terrorism would become an instrument of internal political fight was a matter of time."
Some context: Tatarsky was one of Russia's most outspoken and ultranationalist military bloggers, known for his ardent pro-war commentary and occasional criticism of Moscow's battlefront failures.
His hardline views in support of the war were unremittingly hostile towards Ukraine, and made little distinction between civilian and military targets.
Tatarsky gained prominence after attending a Kremlin ceremony that marked the annexation of four Ukrainian regions — a move dismissed as illegal under international law by Ukraine and Western allies.
"I congratulate everyone, everyone who waited till this moment. We will defeat everyone, we will kill everyone, we will rob everyone we need. Everything will be as we like," he said in September.